This American Beauty Is Reportedly Dating Prince Harry, And The Internet Is Going Wild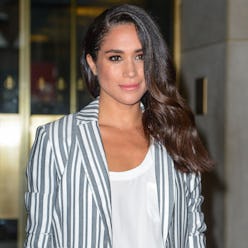 Update 11/10/2016:
Despite Prince Harry's plea to leave her alone, Meghan Markle's continued public harassment has led her to ask for time off from filming her television show, Suits. The actress requested a week away from the set, explaining that she "has something important to do"—reportedly to meet with lawyers regarding her "turbulent and sudden rise to international fame." While the two have yet to be spotted together, some members of the press have already made wild speculations about their relationship. We're hoping this serves as a reminder for the public to start respecting the privacy of Meghan and her new royal beau.
Update 11/08/2016:
Looks like the royal source has spoken. After the recent wave of interest in Meghan Markle, Prince Harry did the unexpected and issued a statement on Twitter entreating people to leave his girlfriend alone. (Yes, this relationship just became official.) The statement was released by the prince's spokesperson at Kensington Palace, speaking out against the "sexism and racism of social media trolls and web article comments" surrounding the actress since news broke out last week that the two were dating. This marks the first time a member of the royal family has condemned media harassment in a public letter.
"Prince Harry is worried about Ms. Markle's safety and is deeply disappointed that he has not been able to protect her," the letter read. "It is not right that a few months into a relationship with him that Ms. Markle should be subjected to such a storm."
Read the full statement below:
Original: Well, ladies, we've got some bad news: Looks like your Prince Charming may have found his princess. Over the weekend, multiple sources linked Prince Harry with Suits actress Meghan Markle, and the Internet is already ablaze with comments of an imminent royal wedding (nope, we're not there yet). The two have reportedly been seeing each other since they met in Toronto in May when Harry was in town for the upcoming Invictus Games. Since then, Meghan has made a few trips to London and shared some telling photos on Instagram. She also seems right up Harry's alley, with a commitment to humanitarian efforts like gender equality, a cause for which the prince has advocated. So far, these remain rumors with neither Harry nor Meghan confirming any details—until then, we might still have a shot at moving into the palace.