Lady Gaga Created Drinks With Starbucks, And They're Actually Kind Of Awesome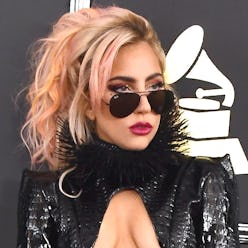 We don't necessarily go to Gaga for artisanal morning beverages (typically we rely on her for a late-night bedroom karaoke soundtrack) but she's full of surprises, so we stand corrected.
The pop star teamed up with Starbucks to launch the Cups of Kindness collection, putting four summer drinks on the menu with a portion of sales to benefit her Born This Way Foundation, whose aim is to empower and support youth particularly in the LGBT community. The Pink Drink, Ombré Pink Drink, Violet Drink and Matcha Lemonade will be available starting tomorrow, and 25 cents from each purchase between June 13 and 19 will be donated to the organization. (Starbucks has already guaranteed a minimum of $250,000.) It's a win-win for all, as you'll already be waiting in line for a thirst-quenching drink to escape this heat wave.
Guzzle away, Little Monsters.