Kylie Jenner And Khloé Kardashian Are Seriously Trolling Us With Baby Talk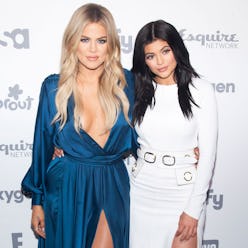 Why do they do us like this?! A month after we first got wind of Kylie Jenner and Khloé Kardashian's rumored pregnancies, we still haven't received any familial confirmation, let alone from momager Kris (at least, not really)—and we're just about ready to call the truth police.
After all, if TMZ sources are to be trusted, we must prepare for not one, not two, but three new additions to America's first family. (Amid all this hullabaloo, we totally forgive that you almost forgot Kim is also expecting.) And if those theatrics weren't enough, Kylie and Khloé are trolling us even further with a YouTube video in which they talk about their "many babies." We don't know what to believe anymore. (This is why the show is called Keeping Up With the Kardashians.)
While promoting their latest Kylie Cosmetics and KoKo Kollection partnership, the half-sisters with their matching blonde hair and black ensembles reference their lip-kit creations, not-so-subtly hinting at the elephant in the room. "We created them. It's our baby together—we have eight!" Khloé jokes. Kylie stirs the pot by adding, "We have so many babies, who knew?"
Concealed by that medium shot, we can't even get a glimpse of possible baby bumps. Can someone please just confirm this already?