ICYMI: How Taylor Swift Really Feels About Kanye West's Song "Famous"
FilmMagic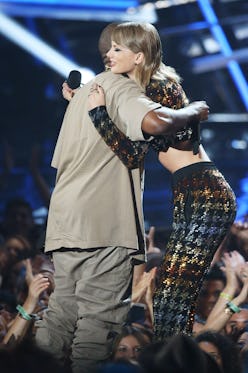 Though it has been a quiet moment on the Taylor Swift and Kanye West drama front, we knew it was only a matter of time before the pot was once again stirred. Insert Kim Kardashian. The reigning queen of social media, Mrs. West took to Snapchat tonight (after giving her Twitter followers a heads up) to post a series of phone conversations between her husband and Taylor. In their discussion, Taylor seemingly consents to Kanye's controversial lyric about her in the song "Famous", thereby contradicting her previous public statements in which she disapproves of the track. We are sure there is more to the story, so keep your eyes on Snapchat, Instagram and Twitter for a response from Taylor. [Update: Taylor has since spoken out on the matter—see her message on Instagram here.]
For now, Selena says it all:
Update [7/19]: It seems as though Kanye, Kim and whoever else was directly involved with the filming and release of said footage could be in hot water—People reports that "it is a felony to record or eavesdrop on any confidential communication without the consent of all those involved" and, according to an attorney they consulted, "it could be argued that [Kim] 'aided and abetted' or 'advised and encouraged' the crime. If so, she can be treated as a principle in the case." The couple, according to the article, could potentially face prison time for such offenses. There is no word yet on whether Taylor will press charges.
Update [8/2]: Justin Bieber is getting in on the game by posting a pic of him and Kanye West FaceTiming with the caption, "Taylor swift what up." Whether this proves the Bieb's allegiance is with Yeezy or that he's merely ruffling Swift's feathers for the heck of it, we're sure Tay will have something to say about it. See the gram below.