Katy Perry Just Made A Huge Donation To This Organization, And She's Inspiring Women To Do The Same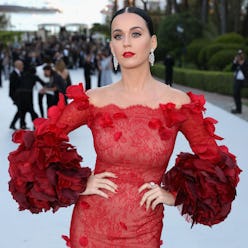 Following the results of last week's presidential election, Katy Perry expressed her disappointment in Donald Trump's victory and promised that she would "not sit still." Now the pop star is making good on her word, starting with a whopping $10,000 donation to Planned Parenthood. In an Instagram post, Katy shared the organization's impact on her own personal growth, including how she first learned about reproductive health and family planning through PP clinics in California.
"Without this education, I may have had a different life path," she wrote, citing Planned Parenthood's commitment to providing medical support for low-income families.
During his campaign, Trump pledged to cut off federal funding to Planned Parenthood. His Vice President-elect Mike Pence previously signed a controversial anti-abortion law during his tenure as governor of Indiana. In the meantime, the organization has vowed to keep its doors open, and women all over the country are showing support through their own donations (with some even using Pence's name in an act of defiance). To do the good deed, click here—every dollar counts.