Kate Middleton Just Shared The Most Adorable Pic Of Princess Charlotte For Her Birthday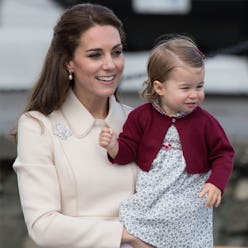 We all knew Kate Middleton had a talent for photography, but her latest portrait of Princess Charlotte takes the proverbial cake. The Duchess of Cambridge snapped a photo of her daughter at their Norfolk home, Anmer Hall, to mark her second birthday tomorrow—and it's absolutely adorable. Just look at how much she's grown:
For reference, this is Charlotte when she turned one:
The young royal is looking more and more like her parents every day, but we also can't deny the resemblance to Queen Elizabeth herself, from that careful hair part to the striking blue eyes. You be the judge.