5 Things Kanye West Is Probably Doing Instead Of Attending The Met Gala
Dimitrios Kambouris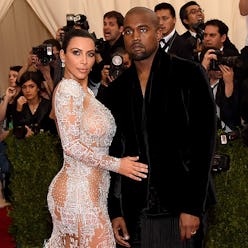 Brace yourselves, for you won't be graced with Kanye West's ripped denim at this year's Met Gala. The rapper is reportedly letting wife Kim Kardashian fly solo this year, despite the fact that they're always one of the most statement-making couples to attend the annual spectacle. (It'll be the first time she appears without him.) While we were hoping for the full Kimye experience, we couldn't help but speculate what Yeezy is doing with all that free time. Ahead, the shenanigans he's probably getting into as Hollywood's finest prepare to party on the other coast. (No FOMO here.)
Sulking. Rumor has it he was given a stern talking-to last year after arriving in ripped jeans, despite the white-tie dress code. (In his defense, those Fear of God jeans retailed for $895, and his Balmain jacket took longer to make than Kim's dress.)
Watching the Cavs beat the Raptors for a Game 1 victory in the NBA Playoffs.
Planning his 2020 presidential campaign. (Yes, We Kanye.)
Recording his eighth studio album with the help of North and Saint.
Firing his assistant for failing to generate a 3-D printed Yeezus bubble in time for him to walk the carpet.
In all seriousness though, he is legitimately taking time off to focus on his health, following last year's breakdown and hospitalization. "It was more about the stress and pressure of a big red carpet," an insider said. "He just wasn't quite there yet." In that case, we do wish him well.