This Is How Kaia Gerber Really Feels About Having Supermodel Cindy Crawford As Her Mother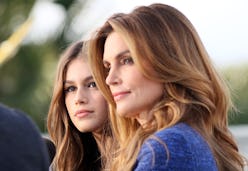 If you've ever questioned the existence of the supermodel gene, look no further than Cindy Crawford and her daughter, Kaia Gerber. The 15-year-old is the spitting image of her mother, inheriting everything from her gorgeous brunette waves to impeccably groomed brows.
While this doppelgänger status might have its disadvantages for some (i.e., the constant challenge of living up to certain expectations), that clearly isn't the case for Kaia. In fact, she reveals in a recent interview that she aspires to be just like her mom.
"I always love going back and looking at photos of my mom when she was closer to my age," she says. "You can't deny that we have similarities. And I've always tried to be more like her."
Kaia even goes so far as to say that her mother, despite their 36-year age difference, is one of her best friends. "In my eyes, she's the coolest, nicest person in the world," she adds. "And I understand that she's my mom, but we've actually become really good friends."
The up-and-coming model attributes her maturity to her friendship with her mom. Unlike other girls in her industry, Kaia values work more than play. Although she admits to the occasional FOMO when she misses out on parties and "normal high school things," she understands the importance of professionalism in the workplace—a principle instilled into her by Cindy, whose experience spans more than 30 years.
"She's always said, 'If I'm there on time, I'm out on time. I'm here to work; let's work.' So I think I've taken that from her," Kaia shares. Here's to taking the saying "like mother, like daughter" to the next level.