You Have To Read Uma Thurman's Fierce Message For Harvey Weinstein
WireImage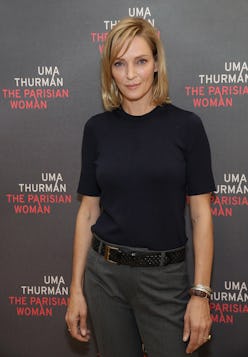 Updated November 24, 2017: Like many other talented A-list actresses, Uma Thurman has worked with Harvey Weinstein in the past. In fact, her beloved Kill Bill films were produced by Weinstein's company, Miramax Films. So when powerful women in the industry—including Gwyneth Paltrow and Reese Witherspoon (among many, many others—see below)—started speaking up, a lot of people expected a response from Thurman. However, all we'd heard from her on the subject was a poised response to an Access Hollywood reporter in which she said that she although she didn't have "a tidy soundbite," she thought women coming forward were "commendable" and that she was "waiting to feel less angry" so that she could best express her thoughts (watch the fierce clip below).
Well, it seems like the actress is getting closer to being ready to talk. Yesterday, Thurman took to Instagram, posting a photo of herself as "The Bride" from Kill Bill with a caption that thanked women for their courage, then called Weinstein out by name. "I'm glad it's going slowly — you don't deserve a bullet," she wrote, also telling her followers to "stay tuned." We'll definitely be waiting patiently to hear what she's got to say next.
Updated November 16, 2017: Angelina Jolie has never been one to mince her words. So when the actress took to the podium at the United Nations Peacekeeping Defense Ministerial Conference in Vancouver, she used her platform to make a powerful statement against sexual violence, particularly taking the issue on a more international scale. In her keynote speech, the Oscar winner referenced the recent accusations that have plagued Hollywood, from Harvey Weinstein's alleged harassment to Kevin Spacey's alleged misconduct. Of course, this abuse exists around the world—not just in the entertainment industry—and according to Angie, it's important that we call it for what it truly is.
"This is rape and assault designed to torture, to terrorize and to force people to flee. It has nothing to do with sex. It has everything to do with abuse of power; it is criminal behavior," she told the audience. The UN special envoy also called on international conflict negotiators to put an end to the abuse women continue to endure, particularly in oppressive regimes. "Sexual violence is a weapon, used to deliberate effect to achieve military or political objectives. It is cheaper than a bullet. It has long-lasting consequences that unfold with sickening predictability. And that is what makes it so cruelly effective." Hear her address here:
Updated November 13, 2017: The media storm that's been raging against sexual misconduct and abuse within the entertainment industry is still going strong, with the latest update in the saga involving Gal Gadot, aka Wonder Woman. According to the New York Post, the star of the hugely successful franchise (whose first film garnered some $821 million worldwide) is said to be refusing to appear in future installments if filmmaker Brett Ratner's financing company—RatPac-Dune Entertainment—is involved. (If you weren't aware, earlier this month, Brett was accused of sexual misconduct by multiple females, including actress Olivia Munn.)
No official statement or confirmation has been released by Gal or Warner Bros., but we'll keep you posted as the story progresses.
Updated October 17, 2017: Since the allegations against movie mogul Harvey Weinstein opened up a nationwide conversation about sexual assault, abuse and harassment, we've been hearing the most heartbreaking stories from celebrities who testify to the rampant misconduct in the entertainment industry alone. Now, yet another Hollywood regular has opened up about her personal experience: Reese Witherspoon.
At Elle's Women In Hollywood event last night, the actress took a moment onstage to reveal her "ugly truths"—that on multiple occasions she has been harassed and assaulted, which made the past week particularly "hard to sleep, hard to think, hard to communicate," she said. In one anecdote, she recalled "true disgust at the director who assaulted me when I was 16 years old, and anger that I felt at the agents and the producers who made me feel that silence was a condition of my employment." While Reese admitted she doesn't often talk about these experiences and even feels ashamed she didn't raise her voice earlier, "hearing all the stories these past few days and hearing these brave women speak up tonight—the things we're kind of told to sweep under the rug and not talk about—it's made me want to speak up and speak up loudly because I felt less alone this week than I've ever felt in my entire career," the Oscar winner said.
Reese added she remains hopeful for the future, especially when women who have had similar experiences continue to bravely come forward with their stories (think the #MeToo rallying cry that's flooding social media). "You can only heal by telling the truth," she said. "I feel very encouraged by this group of people tonight who have created a community of people who are champions now of a new attitude toward harassment in our industry and every industry. I feel really, really encouraged that there will be a new normal."
Updated October 13, 2017: It seems the disturbing accounts of sexual harassment involving Harvey Weinstein and other industry names are not slowing down as, every day, new names are added to the list of victims. The latest: Minka Kelly and Blake Lively.
Minka took to Instagram today to recount a time in which Harvey arranged a meeting with her, presumably in regards to a film role. Upon her arrival, however, the young actress discovered the producer's main objective had nothing to do with business. According to her post, Harvey "regaled me with offers of a lavish life filled with trips around the world on private planes etc. IF I would be his girlfriend. All I knew was not to offend this very powerful man and to get out of the situation as quickly as possible. I told him while flattered, I'd like to keep things professional." Harvey asked her to keep mum about the encounter, which she obliged—with the exception of her agent. "I'm sorry for obliging his orders to be complicit in protecting his behavior, which he obviously knew was wrong or he wouldn't have asked me not to tell anyone in the first place," Minka wrote. "For making him feel ok about the gross things he was saying and that I felt my only route was to say I was flattered."
Blake Lively also dropped a bombshell today. Although the actress' account does not include the name Harvey Weinstein, it is no less upsetting.
Blake revealed to the Los Angeles Times an incident of sexual harassment that involved a makeup artist she worked with while on set for a film. "He was saying things inappropriately, insisting on putting my lipstick on with his finger," she recalled. "I was sleeping one night on location and I woke up and he was filming me. I was clothed, but it was a very voyeuristic, terrifying thing to do."
The most angering part of this story is that—despite Blake's complaints to the producers—the situation was not addressed immediately. Only when the actress consulted with a lawyer was the behavior acknowledged and the makeup artist eventually fired. "Our unit production manager wrote him [the makeup artist] a letter of recommendation because nobody wanted there to be bad blood," she said.
Updated October 12, 2017: Kate Beckinsale is the latest A-lister to speak out against Harvey Weinstein. In an Instagram post that featured a teenage photo of herself, Kate recounted an incident in which Weinstein appeared in a bathrobe at a hotel room and offered her alcohol. She was only 17 at the time. "I had what I thought were boundaries," Beckinsale wrote. "I said no to him professionally many times over the years—some of which ended up with him screaming at me calling me a c*** and making threats, some of which made him laughingly tell people oh 'Kate lives to say no to me.'"
Kate's parting words offer insight on the bigger-picture takeaways of the situation: "Let's stop allowing our young women to be sexual cannon fodder, and let's remember that Harvey is an emblem of a system that is sick, and that we have work to do."
Updated October 11, 2017: Another actress has come forward with her own experience with Harvey Weinstein. Today, Cara Delevingne shared on Instagram two interactions with Harvey that occurred early on in her acting career. The first was a phone call in which the producer asked her about her sexual history with females and told the model that she'd "never get the role of a straight woman or make it as an actress in Hollywood" if she was gay.
Years later, Cara met Harvey in a hotel to discuss a potential role in an upcoming film. "He then invited me to his room. I quickly declined and asked his assistant if my car was outside. She said it wasn't and wouldn't be for a bit and I should go to his room. At that moment I felt very powerless and scared but didn't want to act that way hoping I was wrong about the situation," she wrote in her post. "When I arrived I was relieved to find another woman in his room and thought immediately I was safe. He asked us to kiss and she began some sort of advances upon his direction. I swiftly got up and asked him if he knew that I could sing. And I began to sing … I thought it would make the situation better … more professional … like an audition … I was so nervous. After singing I said again that I had to leave. He walked me to the door and stood in front of it and tried to kiss me on the lips. I stopped him and managed to get out of the room."
Also, in a shocking twist, another unexpected name has popped up amid the Weinstein saga: Ben Affleck. Today, actress Hilarie Burton came forward accusing the blockbuster actor of groping her years ago when she was a host for MTV's TRL. The One Tree Hill alum shared on Twitter a video of TRL outtakes in which she recounts a time Ben "tweaked my left boob." As fans showed their support for her, Hilarie responded with: "Seriously, thank you for that. I was a kid."
This statement came just hours after Ben spoke against Harvey, claiming he was "saddened and angered" by his alleged actions. "This is completely unacceptable, and I find myself asking what I can do to make sure this doesn't happen to others. We need to do better at protecting our sisters, friends, coworkers and daughters. We must support those who come forward, condemn this type of behavior when we see it and help ensure there are more women in positions of power."
Hours after Hilarie's statement, Ben took to Twitter to publicly apologize for his behavior, writing: "I acted inappropriately toward Ms. Burton and I sincerely apologize."
Original story posted October 10, 2017: The topic of sexual harassment is not a new one. However, how it pertains to the entertainment world is rapidly shifting thanks to some high-profile female A-listers who are finally speaking out against an unhealthy "norm" that has been quietly accepted for far too long. On the heels of songstress Taylor Swift, who recently filed (and won) a suit against a Colorado radio host who sexually assaulted her at a meet-and-greet event, actresses like Gwyneth Paltrow and Angelina Jolie are now speaking out against one of the most powerful men in entertainment, Harvey Weinstein.
If you're not fully up to speed on the developing case, here's what you should know: Last week, the New York Times published a report that exposed Harvey Weinstein for sexual harassment and assault that has spanned some 20 years. In the shocking piece, actress Ashley Judd recalled a situation in which the movie mogul had her sent to his hotel room, "where he appeared in a bathrobe and asked if he could give her a massage or she could watch him shower."
Harvey himself issued a statement to the NYT after the piece was published in which he said, "I came of age in the '60s and '70s, when all the rules about behavior and workplaces were different. That was the culture then. I have since learned it's not an excuse, in the office—or out of it. To anyone. I realized some time ago that I needed to be a better person and my interactions with the people I work with have changed. I appreciate the way I've behaved with colleagues in the past has caused a lot of pain, and I sincerely apologize for it."
Just days later, the board of the Weinstein Company—which Harvey cofounded—announced he had been fired.
The NYT report and dismissal of Harvey served as a release for many, as disturbing accounts from Gwyneth, Angelina, Mira Sorvino, Rosanna Arquette and countless others have since come forth in abundance. "I had a bad experience with Harvey Weinstein in my youth, and as a result, chose never to work with him again and warn others when they did," Angelina recounted in an email to the NYT. "This behavior toward women in any field, any country, is unacceptable." Indeed, the case of Harvey Weinstein has exposed a very dark part of the Hollywood scene that unfortunately is more common than we think.
And Harvey's colleagues aren't the only ones taking a stand. Today, the producer's own wife, Marchesa designer Georgina Chapman, announced she was leaving her husband of 10 years. "My heart breaks for all the women who have suffered tremendous pain because of these unforgivable actions. I have chosen to leave my husband. Caring for my young children is my first priority and I ask the media for privacy at this time," Georgina said in a statement to People.
While this rehashing is undoubtedly traumatic for those whose lives have been impacted in this case, we have to admit we're encouraged and hopeful that their stories invoke change. Progress is progress, and we'll take it if it means stopping this deplorable behavior once and for all.