Christie Brinkley Reveals Why She Got Injectables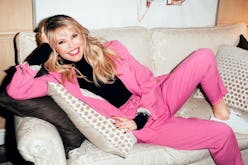 Seated comfortably on an armchair, with her long legs curled to her chest, the icon known as Christie Brinkley sang to me for just a moment. "When I get older, losing my hair…" she half-hummed, sweetly, trailing off after the first few lines of the Beatles' classic "When I'm Sixty-Four." "I remember when that song came out," she told me with a smile. "Thinking, 'That's ancient. Sixty-four? Oh my god!' And now, that's my next birthday."
That's right, people: Christie is about to turn 64—and it's truly impossible to tell. For starters, she walked into our interview looking very Gigi Hadid. I couldn't stop myself from complimenting her pink 3.1 Phillip Lim suit paired with a black turtleneck and white Saint Laurent kicks. She also had no trouble forming a variety of complex poses; balanced on a ledge, leg in the air … there's no question this woman is a P-R-O, pro. But the most recent thing Christie has done to maintain her youthful glow? Experimenting with the injectable neurotoxin Xeomin, along with Ultherapy, an ultrasound that helps to lift the skin in the neck and chest area, both owned by the cosmetic company Merz with which she recently partnered.
Of course, Christie feels no shame in sharing this information. In fact, she views it more as a tip than a secret. With a quick cheers to that (sadly with water rather than her brand of prosecco, Bellissima), we began talking about why she decided to take this step, the funny experience she had after getting injected and some other things women should never be ashamed of.
Why did you decide to get injectables?
"While [toxins have] been around for a long time, this is the newest one, and I like that it is pure—with nothing added. That's what interested me. [And] nowadays, they know where they're putting it. They put it in the frown lines. It eases off the expression, and let's face it—with what's going on in the world today, who doesn't need their expression eased off a little bit? I was like, 'All right, this has been a pretty trying time. I'll give it a go.' And I don't look nearly as worried as I am [laughs]."
To view to the full story, visit Coveteur.