Chrissy Teigen And John Legend Took Luna To A Baseball Game, And This Happened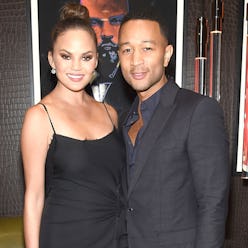 Luna Legend is a little human with big talents. Not only does are Chrissy Teigen and John Legend her parents, the 1-year-old also happens to be a costume model, best friend to the Easter Bunny and now baseball pitcher for the Seattle Mariners.
At yesterday's game against the Minnesota Twins, the mini Legend was given the honor of throwing the first pitch—and she did not disappoint. In an adorable personalized jersey, Luna positioned herself (with the help of her parents, of course) a few spots from the home plate and did the thing.
First pitch @johnlegend? Nope daughter Luna gets the honor. @Mariners @robinsoncano there at the dish. pic.twitter.com/pjRmANKKH3 — Greg Thies | KING5 (@K5Greg) June 7, 2017
She is clearly a good-luck charm, as the Mariners went on to win 12-3. But if you're curious to learn the backstory behind Luna's guest appearance, you can actually thank Chrissy, who was originally asked to perform the deed.
Naturally, the proud parents posed for a family pic after the winning throw, further cementing their status as #familygoals for the rest of the planet. Adopt us, please?