Nicole Kidman, Millie Bobby Brown And More Reveal Their Fave Spice Girls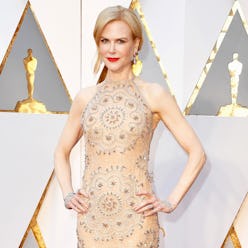 More than 20 years ago, a catchy song called "Wannabe" hit radio waves. People around the world listened as the debut track by a then-unknown British girl group called the Spice Girls dominated music charts for weeks, earning them international recognition and the title of most recognizable song in the United Kingdom, trouncing all-time favorites like Michael Jackson's "Beat It" and Whitney Houston's "I Will Always Love You."
Now, "Wannabe" not only remains one of the catchiest hits ever to exist but also serves as our go-to karaoke number on a girls' night out. In honor of its 21st anniversary on July 8, some of Hollywood's top celebs engaged in a little sing-along for W magazine and Condé Nast Entertainment, even revealing their favorite Spice Girls. Unsurprisingly, there was somewhat of a consensus among the ladies—and the gentlemen, too.
As a refresher, five members make up the band: Emma Bunton (Baby Spice), Geri Halliwell (Ginger Spice), Melanie Brown (Scary Spice), Melanie Chisholm (Sporty Spice) and Victoria Beckham, née Adams (Posh Spice). "I'm obsessed with the Spice Girls," Millie Bobby Brown said. "I like Sporty Spice, and I usually was Sporty Spice, but I do have a soft, soft spot for Posh!"
Nicole Kidman's favorite happens to be a certain fashion designer: "It would have to be Posh, right? She's got an amazing life." And while Claire Foy isn't picking favorites, she admits, "I think I identified most with, I'd say, Posh."
On the other hand, James Franco, Johnny Flynn and Alexander Skarsgård came to an agreement: Baby. "That's what all the boys say," we hear in the background. Here, watch these A-listers reinterpret the Spice Girls' most famous track.