THESE Are The Cutest Celebrity Mother's Day Posts On Instagram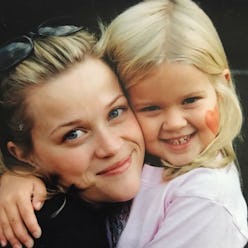 Most days, Instagram is all about the selfies. While we don't mind (most of the time), we're not going to lie and say it's not refreshing to get a break every so often to see something other than the faces of our friends in our feeds. Today is one such day, as Instagram always trends sentimental on holidays like Mother's Day, and posts tend to include adorable throwback photos with touching tributes attached. Our feeds are already flooded with posts that are making us both laugh and cry—here, some of the cutest celebrity posts so far.
Jacob Tremblay
"I love my Smother so much!"
Sarah Michelle Gellar
"Believe it or not, that is not me and my daughter, it is my mom and me!! My favorite quote my mother said to me—'nothing is really ever lost, until a mother can't find it' so true. Today to all the moms, step moms, foster moms, moms of animals—we all know everyday is #mothersday but may as well take this one today for ourselves!!"
Reese Witherspoon
"Being a mom is one of the biggest joys of my life. I have learned so much from my 3 kids... patience, kindness, humility, creativity and of course, how to tell a great knock-knock joke! To my wonderful kids, I love you more than you will ever know (You will figure that out as soon as you have your own kids.) Always know how grateful I am everyday I get to be your mom!!"
Ava Phillipe
"Happy mother's day to my lovely mama. you taught me to be kind, thoughtful, motivated, and strong, and I'm so lucky to have all your wisdom around me."
Kris Jenner
"To my mother, MJ this Mother's Day!! You are everything!! I am so blessed to have you as my mother and am so grateful for the love you have given to our family all these years and the lessons you have taught, and continue to teach us. We love you so much today and every day!! Happy Mother's Day!!"
Miley Cyrus
(Heart emojis.)
Heidi Klum
"Happy Mother's Day from me to all of you moms out there in the world."
John Legend
"Happy Mother's Day to my wonderful wife. Luna is so fortunate to have a mom that loves her so deeply and brings her so much joy."
Gigi Hadid
"Happy Mother's Day to the greatest mom I could ever ask for !!!!! Your compassion for others and unconditional love inspire me every single day (&& most of all thank you for my lil ones @bellahadid @anwarhadid) WE ARE SO BLESSED TO HAVE YOU AND LOVE YOU INFINITELY @yolanda.hadid"
Bella Hadid
"Our angel. Thank you for showing me what selfless love, generosity, compassion, kindness, power and strength is. Thank you for bringing my perfect brother and sister into this world. You have taught me to love everyone the same and keep my eyes open to the ones that don't. I love you so much ...I am so lucky. Happy Mother's Day! You are perfect @yolanda.hadid"
Michelle Obama
"Happy #MothersDay to my mom. I strive to be the kind of mother to my girls that you have always been to me."
Gwyneth Paltrow
#mothersday
Amy Schumer
"Happy M Day Sita! I love you!"
Billie Lourd
"(Heart emoji.)"