The Hilarious Inspiration Behind The Names Of Amal And George Clooney's Twins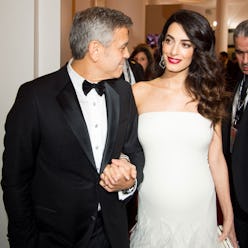 With this generation's baby names skewing more unconventional than classic, it's no surprise incredibly educated boss lady Amal Clooney and actor George Clooney of course went their own way and chose iconic ones for their twins. Thanks to the lawyer's refusal to let her husband dub them Casa and Amigos after his tequila company, Ella and Alexander were blessed with adorable names that undeniably fit their temperaments, as George confirmed in an interview just three months following their birth.
"They start out with a personality right off the bat," he told Entertainment Tonight while promoting his latest film, Suburbicon, at the Venice Film Festival. (Major pause for Amal's red-carpet perfection the day before.) The two apparently have different characters: While the new father described his son as "a thug" and "a moose" ("he just sits and he eats"), he remarked that his daughter has a "very elegant" demeanor and fortunately "looks like Amal, thank God."
But that's not all—George also revealed the genius behind the twins' names, admitting that he and his wife simply didn't want their children "to have really dumb names." Hilariously, he added: "We figured these kids are going to be looked at a lot and watched and [have their] every move sort of judged, and we wanted them to at least have a break with the names. So we looked for some sort of normal names. We didn't have any great inspiration. It wasn't Alexander the Great and Ella Fitzgerald." (Regardless, those are serious #powercouple prodigy names.)
And, as if his journey to fatherhood wasn't unpredictable enough, the Oscar winner said the feels hadn't hit him until the twins were born in June. "I suppose [the realest moment is] just the minute they came out," he explained. "None of it is real until all of a sudden they're standing there covered in slime and crying. You're like, 'Wait a minute—what is that?' We were just two, and now we're four." We're certain there are even more amazing things in store for the beautiful family.