Adele Made A Surprise Visit At The London Fire Vigil, And Things Got Emotional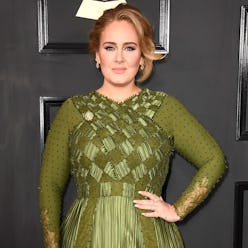 Following a catastrophic fire at the Grenfell Tower in London that claimed the lives of 17 people, social media immediately became flooded with mournful messages and heartfelt notes to victims and the surrounding community. And while celebrities also expressed their sorrow, one London native made a surprise appearance by actually joining the masses as they held a vigil close to the Notting Hill neighborhood.
In a post shared on Instagram that has since gone viral, Adele was spotted with husband Simon Konecki, and they reportedly hugged and comforted people at the site. The Grammy-winning singer, who hails from nearby Tottenham, looked visibly distraught as she paid her respects to those affected by the tragedy, and fans took note of her sincerity as she didn't publicize her visit on any of her social accounts.
Singer Rita Ora also lent a hand by helping deliver urgent supplies to the scene. "This is my neighborhood. I can't believe this is happening," she wrote on Instagram. "My prayers are with everybody involved. My heart is beating so fast. I used to play in that block—I want to do all I can do to help."
We couldn't have more respect for these two. For more information on how to help those affected, click here.