5 Things You Didn't Know About Our New Girl Crush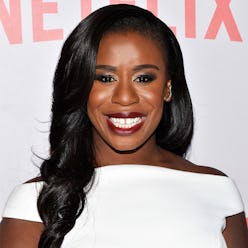 Since coming onto the scene in 2013 as Orange Is The New Black's Suzanne "Crazy Eyes" Warren, Uzo Aduba has proven to be even more interesting than her character. With a background in performing arts, an Emmy and a SAG award under her belt and a breathtaking smile to boot, there's nothing that can stop her now. Here, five things we love about Uzo—get ready to fall in love too.
#1. She's Beautiful And She Knows It
Her mother refused to let her get braces in 6th grade because a front-gap is a symbol of beauty in Nigeria (her home country). Nowadays Uzo embraces the features that make her special. She once turned down the representation of a talent agent because she suggested that Uzo fix her teeth.
Photo: Getty Images
#2. She Sang A Duet With Taylor Swift
We've heard her opera skills before but yesterday Uzo became one of the many celebrities that crashed Taylor Swift's 1989 tour and even belted out a verse of the pop star's song "White Horse."
Photo: @staplescenterla
#3. She Knows The Value Of Hard Work
Her mother once said, "I never heard of nothing coming from hard work. I don't know what will come for you, but something will come if you just work hard." Ever since, Uzo has lived by that motto and it has helped her climb to the top. As always, mom knows best.
Photo: @uzoaduba
#4. She Almost Never Gives Up
45 minutes after deciding that she was going to quit acting, she got the call that she landed the role in Orange Is The New Black. She tells the Huffington Post, "I started to feel like this was a journey that wasn't even worth the try, because where was I going to fit in? I was trying and being told, 'No.'" That's exactly why you should never give up.
Photo: @uzoaduba
#5. She's A Serious Athlete
Uzo was a competitive figure skater for ten years (she even highlighted her skills on OITNB episode 13) and was a Division 1 track star in college. She also recently completed the Boston Marathon earlier this year.
Photo: @uzoaduba