3 Reasons We Can't Wait For Tom Ford's New Movie Nocturnal Animals
Billy Farrell/BFAnyc.com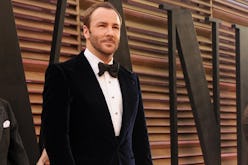 Entertainment Weekly shared exclusive images of Tom Ford's new film Nocturnal Animals on Monday, and we haven't been this excited for a film since that Blake Lively shark movie came out last month. Ford's first film, 2009's A Single Man, resulted in an Oscar nomination for its leading man, Colin Firth, and was well-received by critics and fans alike. Ford's newest venture is likewise based on a novel, and the designer once again adapted it into screenplay format himself. Here, three reasons Nocturnal Animals is going to be THE film of 2016.
3 Reasons We Can't Wait To See "Nocturnal Animals"
The Premise Is Intriguing
The 1993 book on which the film is based, Tony and Susan, revolves around Susan (Amy Adams), a married artist living in Los Angeles, who receives a manuscript from her ex-husband called Nocturnal Animals. The manuscript is a thriller which tells the story of " a family under siege by hoodlums on the highway late at night ." The big question of the film is, "what is the story supposed to mean for Susan?"
Amy Adams & Isla Fisher Finally Appear In The Same Film
Doppelgängers Amy Adams and Isla Fisher finally appear in the same film, where their resemblance is vital to the plot. We have to wonder if this will get confusing at all given just how similar the two actresses are in appearance, but we love the concept nonetheless.
We'd Watch Jake Gyllenhaal Stare At A Wall For Two Hours
Luckily, however, we won't have to, as he plays both Amy's ex-husband and the lead character of the manuscript, a man who finds his family unexpectedly under siege.