Even Other Celebrities Say Rihanna 'Smells Like Heaven' Thanks To This Ultra-Luxe Perfume
Your guide to A-list fragrances awaits.
James Devaney/GC Images/Getty Images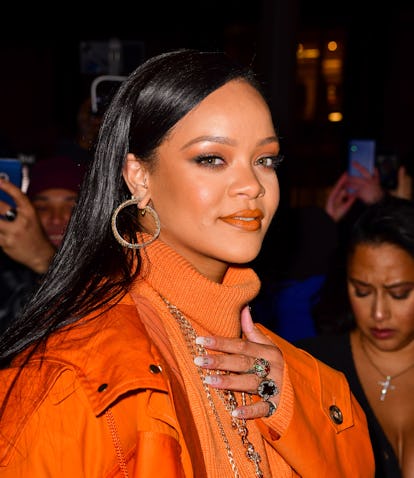 We may receive a portion of sales if you purchase a product through a link in this article.
Even if you're not so into the nuances of skin care trends, hair care, or makeup, chances are you have at least one beloved fragrance sitting somewhere in your home. Whether it's a cherished classic you regularly shell out for or a captivating drugstore option to throw on anytime you need a pick-me-up, everyone has (or should have) that special signature scent that instantly makes them feel more grounded and confident — more like themselves. Celebrities' favorite fragrances work the same way. Where some stay true to their teenage favorites, others have more perfumes in rotation than a department store counter. If you're looking to switch over to something new or are just on the hunt for another perfume that'll pair nicely with your usual scent, then try taking a page from a few A-listers.
These celebrity-approved perfumes are actually like tea leaves for the stars who love them, revealing more about their personalities and tendencies than many interviews or TV specials. Are you trying to manifest Rihanna's sultry olfactory energy, or are you more in tune with Sarah Jessica Parker's more au naturel take on perfume? The only way to find out is by trying them yourself, so check out these celebrity-beloved fragrances — and be prepared to smell very, very good.
Kendall Jenner
An it-fragrance for an it-girl — Jenner's latest favorite definitely tracks. While she's partnered with By Far to promote Daydream Of A Bingo Queen on her Instagram, her love for the brand is well-documented. The top note is actually four-leaf clover, so fresh while attracting extra luck with every spritz.
Princess Diana
So devoted was Diana to her everyday perfumes that Prince Harry detailed smelling her go-to scents in therapy as a form of processing his grief. On her wedding day, Diana wore this luxe blend of white florals — thought to be the very first multi-bouquet perfume ever created — anchored by sweet Tonka bean and creamy sandalwood.
Beyoncé
While Beyoncé's had a hand in creating her fair share of self-branded perfumes (including a mysterious new one currently available for pre-order), her real-life favorite is appropriately luxe. Earlier this summer, fans spotted Beyoncé in Harrods stocking up by this Kilian cognac perfume inspired by the founder's family history as the creators of Hennessy.
Taylor Swift
It's often joked that her stans are essentially just super-spies with Twitter access, so it makes sense that they'd be the ones to personally find out Swift's signature scent. While she's notoriously tight-lipped in interviews these days, fans invited to her house to preview her albums asked her point-blank what scent she was wearing. The answer? Tom Ford's Tobacco Vanille, an intoxicating mix of earthy and gourmand notes.
Rihanna
Rihanna's admiration for Kilian's Love, Don't Be Shy was first reported by Stylecaster in 2016, which documented a video of her unapologetically spritzing the fragrance on as her friend filmed her in all of her aromatic glory. The perfume, which is known for its notes of orange blossom, vanilla absolute, and marshmallow, has now become an internet classic. Even celebrities who have come in her path have admitted to loving the waft of Rihanna's signature scent — Cardi B immediately shouted "She smells good!" when first meeting her at an award show, and Lil Nas X described Rih as smelling "like heaven."
Hailey Bieber
A true beauty lover, it's not surprising that Bieber has several favorite perfumes constantly on rotation — but among with her impressive collection, one really stands out. In an interview posted to TikTok, Bieber shares that she keeps coming back to Ex Nihilo's Fleur Narcotique, a rich, addictive floral scent that's tempered by an unexpected burst of bright fruits.
Lori Harvey
Trust Harvey, one of the most influential celebs in her age bracket, to have TikTok's favorite perfumes already in her arsenal. Last year, she told NYLON all about her love for Tom Ford's Bitter Peach, an unforgettably strong scent that combines sweet blood orange oil with a jolt of pachouli and sandalwood.
Blake Lively
According to Vogue Australia, Lively loves Gucci's Eau Premiére — which is quite fitting since she used to be the face of the fragrance. Top notes of mandora, a popular fruit found in Cyprus, are married with bergamot, lilac, and geranium oil to make for one superior bottle.
Priyanka Chopra Jonas
Chopra Jonas is exceptionally loyal to her signature scent, Trussardi Donna Eau De Parfum. It's a brilliant take on subtle notes of citrus, rounded out with sandalwood, vanilla, and jasmine — perfect for important business meetings.
Margot Robbie
Recently shared on Marie Claire, Australian actor, Robbie enjoys essential oils the most but when she does opt for a scent, her go-to is a minimalistic one like Calvin Klein's Deep Euphoria. This subtle floral scent, packed with cascalone and black magic rose is light enough for everyday wear.
Victoria Beckham
Though she's previously shouted out a few fragrances like Creed Royal Water and the beloved Byredo Bal d'Afrique, her most recent aroma of choice seems to be Vilhelm Parfumerie's Room Service. WhoWhatWear reports that she took to her Instagram story back in 2020 to gush over the luxe floral fragrance, noting that it's "Super chic!" in the caption. This isn't your average floral scent, though — the more traditional pink orchid and bamboo are buttressed by hints of fruity blackberry and mandarin nectar, paired with earthy black amber, musk, and sandalwood for even more depth.
Jennifer Lopez
Not even a team of Navy SEALS could get Lopez to admit her love for anything other than her own brand of signature perfumes — but some fans allege to have seen her picking up a couple big bottles of Delina by Parfums de Marly. Described as floral, sensual, and "princessy", it certainly would fit right in with Lopez's aesthetic.
Emma Stone
Marilyn Monroe isn't alone in her love for lounging in Chanel: According to a 2014 interview with Vogue Australia, actor Stone admitted that she loves the luxury label's Gardénia Eau de Parfum so much that she sprays it on her own pillow every night before bed. As you can expect from the name, this perfume's a classic floral scent that focuses solely on — you guessed it — the natural scent of gardenias.
Meghan Markle
Older interviews from Markle's pre-royal days reveal her penchant for perfumes in general, but Jo Malone London's Wild Bluebell reigns supreme in her eyes. This fresh floral is more subtly enchanting than it is intense, amped up by notes of bluebell, persimmon, and white musk. As a fun aside, it's actually very similar to one of Princess Diana's daytime signatures.
Sarah Jessica Parker
Parker's take on beauty trends, aging, and self-acceptance are refreshing to say the least, and it's no surprise her laid-back approach extends to fragrances, too. Though she's been the face of designer perfumes as well as created her own in the past, a New York Times article reveals her three favorite scents outside of her own line. The first, which is honestly the most surprising, is a familiar drugstore find: Parfums de Coeur's (formerly Bonne Belle) Skin Musk, a subtle oil fragrance with hints of sandalwood. Parker likes to wear the skin-glorifying scent alone and layered with other oils.