Blake Lively's Go-To Nail Polish Colors Are As Varied As Her Wardrobe
We have the pics to prove it.
Jamie McCarthy/Getty Images Entertainment/Getty Images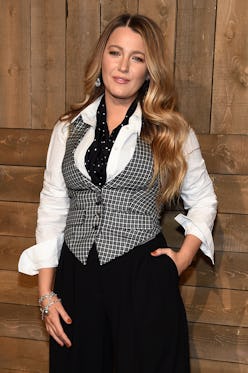 Blake Lively is one of those people who can — and will — wear anything. And she does so with ease, often rocking full-on suiting one day and a glamorous ball gown the next, while somehow managing to make it all appear completely effortless. So it's no surprise that the Blake Lively's nail colors follow suit, frequently transitioning from bright shades like lime green to classics like burgundy, and proving that the style chameleon's ability to experiment translates directly to her beauty looks, too.
But it's not just her style range that clearly inspires the actor's manicures — it's also many of the colors she's known to don time and time again. Obviously, Lively appreciates a red dress, and, perhaps not coincidentally, one of her go-to nail shades is red as well. The 32-year-old also has a penchant for lime-green and neon-yellow outfits, and — you guessed it — her polish often mirrors them.
Though some of those decisions were surely influenced by Lively's longtime manicurist, Elle (also known as @enamelle on Instagram), there's no doubt that the celebrity has taken notes from her own closet over the years to create her signature nail-polish looks. Ahead, the eight nail polish colors she turns to again and again.
This article was originally published on