Blake Lively's New Brunette Hair Changes *Everything*
Raymond Hall/GC Images/Getty Images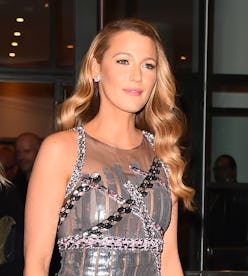 Is there something in the water over in Hollywood? It seems every A-lister is after an aesthetic-altering makeover this month, and fans are the ones benefitting. Nearly every day, another red carpet favorite unveils a shocking new hair transformation that totally changes their vibe — and inspires legions of others to follow suit. The latest surprising switch-up? Blake Lively's dark brunette hair, just shared to her Instagram Story amid swirling rumors on her upcoming film roles. Lively, who's also currently pregnant with her fourth child, lets the rich, brownie-colored new hair shade do all the talking in the captionless photo. While the look might be a wig or other bit of movie magic, it does look very natural — and very Old Hollywood — on Lively.
The world's been waiting on Lively's response to the announcement that she's playing the titular role in an upcoming adaptation of Colleen Hoover's bestseller It Ends With Us, and this seems to be her way of acknowledging the casting. In the photo, Lively shares a side-profile shot that shows off the deep brunette hair color and retro-looking barrel curls cascading down her shoulder. Seemingly intentionally blurry — which only heightens the mystique of it all — the photo is already igniting serious speculation. One thing that's not at all in question, though, is how well the color suits the naturally-blonde Lively.
The post carries even more weight considering just how rarely Lively posts in general. In the past 14 months, she uploaded fewer than 20 photos total, a far cry from the carousel-a-day social media habits of many of her peers. While she's no stranger to extreme hairstyles, different shades or blonde, or even going red, this will be her darkest hair color ever.
Regardless of if this new hair color is for a role, for a lifetime, or just for this week, one thing's for sure: she's one of the few who can truly pull off any look from any era, and serve up plenty of beauty inspiration for the masses along the way.