Behati Prinsloo's Go-To Summer Cocktail Is So Easy To Whip Up
Spicy margaritas for everyone.
courtesy of Calirosa Tequila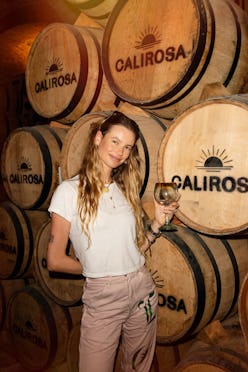 We may receive a portion of sales if you purchase a product through a link in this article.
It's been quite the whirlwind summer for Behati Prinsloo. The model has spent the last couple months traveling through Europe with husband Adam Levine (who was on tour with Maroon 5) and their three children, a first for the household of five. "We had an amazing time and I was so proud of how great the kids did," says the model on a recent call with TZR. "I was so nervous at first. But yeah, we had such a good time. We went to Paris and we were there for about a week. And then we went to London for another week [...] and then we came home." She explains that the family recently traded the hustle and bustle of Los Angeles for the quiet, serene "sanctuary" of Santa Barbara, which serves as a sort of escape in itself. Here, Prinsloo can relax, unwind with her favorite summer cocktails by the pool, and explore her laidback surroundings away from the limelight of Hollywood. Which is exactly what she'll be doing for the duration of the season.
"We're basically home for the rest of the summer," says the Calirosa Tequila co-founder. "The band has a residency in Vegas coming up, so we'll be in and out. The kids might come for five days of that, but [my husband is] going to be there for about three weeks. Other than that, we're just here, spending our days in Santa Barbara on the beach. The weather's perfect."
And while one might assume that moving a couple hours out of LA might slow the steady stream of houseguests and visitors that Levine and Prinsloo were famous for hosting in their previous home in the city, the model explains that they can still be found with a full house. "Because we're further away, these hangouts are just more planned now and not so spur of the moment," she says. "So a lot of my friends will come out and we'll do a weekend together. I feel like a lot of times now instead of just dipping in and out, people will spend the night, which is nice too. So you get more quality time. But, yeah, still a lot of people in and out, but different."
Luckily, Prinsloo's hostessing skills are sharper than ever. In addition to offering ambiance and a pristine coastal backdrop, she can make a mean cocktail at the drop of a hat. For her, ease and efficiency are key. Luckily, co-owning your own premium tequila brand with your spouse makes regular access to quality booze and whipping up crowd-pleasing drinks a cinch. "My thing this year has been spicy watermelon margaritas because they're really easy," says Prinsloo, who makes her concoction (featured below) with Calirosa Rosa Blanco tequila, fresh watermelon and lime juice, agave syrup, and jalapeño. "All these recipes we've worked on together because I'm so impatient. I can't have a million ingredients in one drink. So it's three to four things, and batching it out is a huge thing for me."
Another favorite cocktail of Prinsloo's also happens to be a big spirit trend for summer: ranch water. "It's so yummy, refreshing, and it's really low sugar," says the model of her tequila-infused recipe, which also incorporates lime juice, agave syrup, and sparkling water. "I don't want a crazy sweet drink. When it's overly sweet with fake sugars and fake syrups or artificial flavoring, I'm not into it. So I'm always all about just keeping it all natural, with really fresh ingredients and quick and easy recipes." The same goes for food, as Prinsloo is partial to a well-rounded charcuterie plate and chips and guacamole when entertaining guests for the summer.
These long, lazy warm days filled with fresh fare and crisp sips make fall feel eons away (despite only having a month or so of the solstice left). "I'm like, 'Please, fall, don't come yet,'" says Prinsloo. "May and June were so foggy here so now that the sun is out and everyone's on the beach, I'm so focused on summer." Same, Behati. So, when's the next party?