Katherine Schwarzenegger Pratt's Latest Projects Are All About Family
@katherineschwarzenegger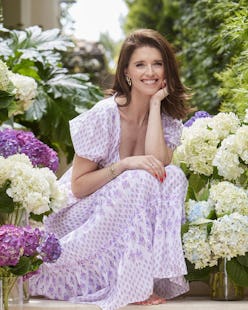 Best-selling author and now mommy-and-me clothing designer Katherine Schwarzenegger Pratt is constantly inspired by her family. She came up with the idea for her latest book, Good Night, Sister based on her relationship with her sister Christina. "Growing up we had such a closeness and bond that I feel so lucky to still have today," she says. As luck would have it, Schwarzenegger Pratt's second daughter (she has two little girls with husband Chris Pratt) arrived by the time her publication, which celebrates sisterhood, was released. "I now get to see my girls share that same sisterly bond, which is really beautiful," she says.
Her latest venture also took cues from her little ones — and motherhood in general. The LA native recently launched a Cleobella capsule collection, featuring matching mother and daughter styles (think: airy sun dresses). "I was introduced to Cleobella when I was pregnant," she says of wearing the brand's dresses in all phases of life: not expecting, prenatal, and postpartum. "I was really excited by the idea of being able to create a dress for all generations, and being able to have a matching mommy and me moment felt so aligned with this phase in my life."
Schwarzenegger Pratt says she appreciates the inclusivity of the label when it came to designing for all ages, shapes, and sizes. "Being able to do it with a brand that celebrates women from all different walks of life, allowing women to feel beautiful no matter what, was really important to me," she adds.
Ahead, TZR speaks with the mother of two about all things family. From balancing work and parenting to her relationship with her daughters, husband, and mother Maria Shriver, Schwarzenegger Pratt reveals why home is truly where her heart is.
What's your relationship with your mom [Shriver] like? What have you learned from her?
Oh my gosh, everything. I am really close to my mom and honestly my whole family is super close. I used to call my mom about life advice several times a day, and now I find myself calling her constantly about parenting advice, raising kids, and also working and wife questions, as well. Needless to say, we are on the phone several times a day and live very close in proximity. She's also an amazing grandmother to my girls, so that's been a beautiful new part of our relationship that I feel really blessed to witness.
Has your mom given you any tips on motherhood that helped prepare you?
I think pretty much everything came from my mom from what she told me, but also just watching her. I'm the oldest in my family, so I have very vivid memories of watching my mom with my siblings, and I remember her being pregnant with both of my brothers and coming home from the hospital. I remember her breastfeeding and pumping while she was at her desk working. I always knew I wanted to be a mother and I have learned pretty much everything from my mom. She's the most loving, attentive, present, and perfect mother. I hope I can be like her.
OK, let's talk home life. How do you and your husband [Pratt] split up tasks as parents?
We are in constant communication about dividing and conquering when it comes to the kids. I feel really lucky to have a partner who is open to communicating about the ever-changing parts of parenthood, especially as the kids get older and have different needs. We are always connecting on how we can help one another and be present for our family and most importantly, support one another and enjoy being parents.
How do you and Chris' parenting styles compare?
I think they work really well together because we have different strengths. I am really good at multitasking with the kids and scheduling and doing a lot of girly fun things that my mom did with my sister and I. Chris is great at that, too, and he's also amazing in the kitchen (which I'm not) and great at having fun and being present in the moment with the kids.
What do you love the most about being a mom?
Honestly just the bonds and connections I have with my kids and my husband is my favorite. My mom told me a really beautiful story of when she was pregnant with me and traveling constantly for her work. She had a moment where she was sitting in an airport [with her pregnant tummy] and thought to herself that she would never be alone again and that she had a built-in buddy that was soon to be earth-side and with her always. She told me that story when I was pregnant with my first daughter, and it made me really emotional and also really excited about the idea of being able to always have your children by your side. I hope I have the same relationship with my kids as I do with my mom.
Any parenting tips to share?
Be as present as possible and gentle with yourself. We are all doing our best.