Angelina Jolie: 5 Things You Don't Know About Her
Photography by Peter Lindbergh, Styling by Anastasia Barbieri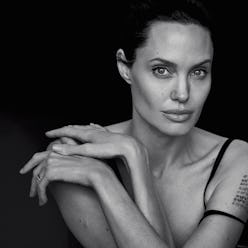 The Wall Street Journal recently named Angelina Jolie its 2015 Entertainer/Film Innovator, thanks in great part to the upcoming debut of her film By the Sea, as well as her humanitarian efforts. Jolie, despite being a style icon and one of half of Hollywood's most famous couple, usually keeps her personal life close to the vest, but WSJ's profile was super-revealing. Below, discover 5 facts we didn't know about the actor/director/mother of six until now.
Jolie employs neither a publicist nor a manager. The superstar rolls surprisingly solo (and low maintenance), even when she's on the clock.
She professes to preferring directing and writing to acting these days. Her next film, titled First They Killed My Father, is set in Cambodia and will be released on Netflix, not the big screen.
The trait husband Brad Pitt most admires in Jolie is her "quirky sense of humor." Once, while visiting Malta to shoot By the Sea and while dressed in character, she took her children to a pet shop to buy a bunch of hamsters after falling in love with a family of hamsters in its front window.
She claims to wear the same thing every day: skinny black pants, a t-shirt, a Cartier watch, eye liner and her wedding band.
A devoted advocate for the United Nations' program, Jolie makes 5-7 trips a year to refugee camps around the world, which has included 11 visits to see Syrian refugees in war-torn parts of Iran and Turkey.