The Rituals Alessandra Ambrosio Credits To Her Age-Less Complexion
@alessandrambrosio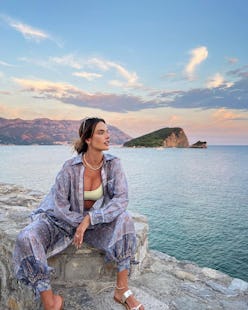 At 42-years-old, Alessandra Ambrosio still has the vibrancy and youthfulness of the teenage model that made waves on the runways of Prada, Chanel, and Bottega Veneta. Yes, some 30 years into her career, the Brazilian's energy, skin, and sunny disposition have not wavered. And while genetics could be credited to her inside-out fountain of youth, Ambrosio explains that her commitment to regular fitness and health routines have done her body and mind a world of good over the years.
"I feel like I have so many rituals these days," says the model at TZR's annual ZOEasis event in Thermal, California on April 15. "I start my day with a little meditation and then I love doing yoga, and then I like to drink my water and hydrate. And sometimes I'll put a little lemon in my water, so that's part of my wellness, because I think the lemon in water, it's really good for you. And, through the day, water, water, water — hydrate yourself."
Ambrosio is clearly big on H20. Between her advocacy for water conservation and her love for ocean frolicking (as thoroughly evidenced on Instagram), you'd be hard-pressed to find a more avid sea-lover. In fact, her passion has even led the model to invest in Italian mineral water brand Solé.
"So I think water is one of the most important things that we can do for our beauty, inside and out, to feel good, to feel hydrated, to feel healthy," she says. "If there's one thing I don't like about water, it's when it [has a] taste. [This one, however,] was tasteless. That means that the pH of this water is the same as our body. It comes from the Alps, and it's bottled right there so it's fresh, yummy, full of minerals, and super healthy."
Almost as important as hydration is Ambrosio's nightly self-care rituals, which focus on calming her mind and giving her body some rest and care. "At night, I like journaling," the mother of two explains. "I don't journal every night, I'm going to confess right here, but at least three to four times a week, I'm journaling what's going on with my mind. I think it's really important. I [also] love taking baths and putting a nice candle. I love doing a massage, sometimes, natural oils for my skin. So anything I can get my hands that is natural, I'll do it."
One of the biggest changes Ambrosio has made in her day-to-day, which might surprise some, is regular exercise, with workouts like pilates, yoga, beach volleyball, and long walks with her pups topping her list of favorite activities. The model goes on to explain that fitness was not something she prioritized in her early modeling days. "I wish when I was younger, I went to the gym," she says. "But I love dancing — at that time, I danced a lot. But I wish I went to the gym earlier because now I just love being able to take care of my body and taking that time [for myself]. As much as you are taking care of your physical [self], your mental health [is also impacted]. So that one hour that you spend doing something for your mind and body, and I think it's a good thing."