The Best 2022 Cannes Film Festival Beauty Looks Scream Opulence & Classic Glamour
The Riviera is heating up.
Pierre Suu/GC Images/Getty Images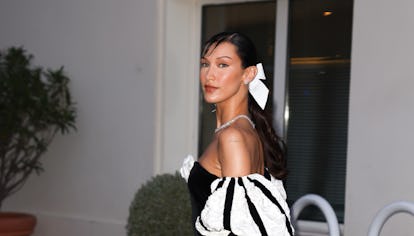 Cannes Film Festival isn't your run-of-the-mill celebrity gathering. Sure, there's the standard red carpet, the exclusive A-list turnout, and a slew of buzzy films all competing for the elusive Palme d'Or. But something about Cannes feels different — maybe it's the exotic locale, the time of year, or maybe it's the caliber of stars and movies invited to the multi-day festival. Regardless of what gives Cannes its almighty cultural cache, one thing's for sure: that perfect storm of Riviera sun and full-on prestige means the attending celebrities always bring their aesthetic A-game.
The 2022 Cannes Film Festival's best beauty looks in particular are an exciting blend of personal style infused with plenty of trends du jour — think of-the-moment hair colors styled in classic updos, subversive styles, and season-bending takes on makeup color. More than anything, it's a celebration of expression, both through the films and the way the stars present themselves on the red carpet and the endless string of screenings and parties.
To catalog all the coolest, most copy-worthy looks, TZR's rounding up the very best hair, makeup, and manicure moments at the 2022 Cannes Film Festival.
Below, check out the true cream of the Cannes crop, straight from the French Riviera.
Lori Harvey
Looking like a real-life Disney princess in her flowing sunshine-yellow gown and an entire mine's worth of diamonds, Lori Harvey is the very picture of fresh-faced radiance. Her soft smoky eye (especially those fluttery lashes) serve as the look's centerpiece, accented by a classic chignon, some delicate blush, a French manicure, and a wash of reflective lip gloss.
Eva Longoria
Eva Longoria is gasp-worthy in her artfully-undone ponytail with plenty of volume at the crown and shoulder-skimming tendrils, an excellent pairing choice with her sheer, tiered gown. Here, Longoria and her glam concentrated much of the drama on her cat-eye makeup, a smoldering take on the all-time look, but dressed her lips up in a lovely rose-tinted shade.
Julianne Moore
At this point, Julianne Moore is beyond a red carpet pro — she's a full-on Cannes stalwart. But just because the actor is a perennial attendee doesn't mean she ever slacks on the glam. For her look at the opening ceremony, hairstylist Marcus Francis used a slew of PHYTO Beauty products to perfect her voluminous blowout, while hair color-matching warm russet eyeshadow shades define her bright blue eyes.
Jasmine Tookes
An illuminating pop of metallic gold shadow lends an ethereal, fairylike feel to Jasmine Took's sunflower-yellow gown, further complimented by the waterfall of full, glossy waves tumbling down her back. Otherwise-minimal makeup allows those yellow tones to simply shine.
Viola Davis
Continuing the festival's delightful unofficial theme of leading ladies in warm, happy yellow, Viola Davis is absolutely stunning in her Alexander McQueen gown. But as flawless as the ensemble is, it pales in comparison to Davis's full, defined Afro with a nail-matching red floral accessory, styled by celebrity hairstylist Jamika Wilson. Meanwhile, Davis's makeup, applied by celebrity artist Autumn Moultrie, is an artful blend of glossy red lips and a classic smoky eye. It ties the entire look together — even her shoulders and decolletage are just gleaming.
Elle Fanning
Always up for a sweet accessory moment, Elle Fanning's pale pink lacy bow holds her side-swept Old Hollywood curls back while acting as an extension of her jewel-encrusted Armani gown. On the makeup front, Fanning continues the classic starlet theme with a retro wing of inky liquid eyeliner and a subdued red lip.
Chriselle Lim
Chriselle Lim is the definition of sleek sophistication even on her off-duty days, so her red carpet looks are reliably gorgeous. Her Armageddon Time screening look, though, completely transcends. Lim's razor-sharp bob is glossy as ever while a delicate wash of pink blush and lipstick offers a very subtle contrast to her shimmering, blush-toned gown.
Alicia Vikander
Sleek and shimmering on the Cannes red carpet, Alicia Vikander paired her intricate, metallic bronze gown with a soft smoky eye and a cool, brushed-back topknot. Her radiant makeup look comes courtesy of celebrity artist Kelly Cornwall, who used a slew of Chantecaille products (including shimmery bronze and taupe eyeshadow singles) to bring the look to life.
Letitia Wright
Letitia Wright's crisscrossing blue braids and matching glitter eyeliner would have each been a show-stopping moment individually — but combined, they make one of the film festival's high points. The glittery aqua liner stands out all the more amid Wright's otherwise-minimal makeup, too.
Bella Hadid
Looking like a modern version of Tchaikovsky's Odette, Bella Hadid brings serious drama to the Chopard Loves Cinema gala with her gently-winged liner, bouncy bow-wrapped ponytail, and moody, gelled bangs.
Jourdan Dunn
Conversely, Jourdan Dunn's pretty-in-pink moment is princess-perfect, so light and airy. Her braided bun perches delicately on the crown of her head while a swath of side-parted bangs frames her face. The best part, though, might be Dunn's powder-pink eyeshadow, a lovely matching touch.
Jamie Xie
It's impossible to identify the best element in Jamie Xie's look for the festival's L'Innocent screening — is the smoke-like gown, her chrome nails, the wildly chic damp-effect hair, or her sultry stiletto eyeliner?
Kristen Stewart
Hollywood's consummate cool girl just turned up the dial on her own it-factor by taking the Cannes red carpet in a stylish, messy topknot and blacked-out sunnies.
Diane Kruger
Diane Kruger is one you can always count on for some classic red carpet glamour, and this year at Cannes, she lived up to her stylish reputation. Soft, center-parted curls are always a great choice, while the bold wash of red lipstick is a spot-on match to her scarlet, high-necked gown.
Kaia Gerber
Just like her legendary mother, Kaia Gerber gravitates toward natural beauty looks paired with wildly glamorous gowns for excellent aesthetic juxtaposition. For the Cannes screening of Elvis, Gerber's soft matte skin and full, brushed-up brows followed her relaxed updo's lead — all off-set, of course, by her custom poppy-red Celine gown.
Charli XCX
Arriving in Cannes for the annual amfAR fundraising gala, Charli XCX's braid-accented updo is a dreamy complement to her lace-wrapped top. Next Level Charli, officially activated.
Cynthia Erivo
A radiant vision in her petal-pink and black silk gown, Cynthia Erivos's amfAR gala ensemble is matched only by her chic, close-shaved haircut, fluttery lashes, and lots of gleaming highlighter.