YouTube's Top Vloggers Share Their Best-Kept Beauty Secrets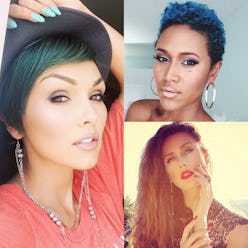 We met up with our favorite beauty vloggers at BeautyCon, Los Angeles to get all their best kept beauty secrets. From their daily must-haves to feeling confident, these girls really gave us the scoop. Find out what they can't live without and shop your new go-to products.
Get pretty skin and confidence like a beauty blogger.
Kandee Johnson Of Kandee Johnson
On confidence:
"I feel most confident when I am believing in myself and not caring what other people think about me. If I go out in a pair of sweatpants or without makeup, it's all about brightening somebody's day. It more than just going out and making sure I'm selfie-worthy. When you're making somebody's day, that to me is more beautiful that putting on a ton of makeup."
On skincare:
"For years I've used Burt's Bees Citrus Face Scrub. I use it as a face wash and makeup remover because it has emollient oils that remove makeup and a grittiness to scrubs off impurities. I also make my own eye makeup remover with olive oil and witch hazel."
Photo: @kandeejohnson
Cassandra Bankson Of DiamondsAndHeels14
On skincare:
"Since I have such bad skin, I want to make sure that my products are really working. Right now I'm using Glamglow supermud to remove my makeup along with the Clearogen acne treatment set, which blocks the testosterone in the skin and has really been helping my cystic acne."
Go-to beauty product:
"I never leave the house without a pair of sunglasses and Fresh's Rose Sugar Lips. For a the perfect eye, I can't go anywhere without my Urban Decay eyeshadow primer."
Photo: @diamondsandheels14
Maya Washington Of Shameless Maya
On confidence:
"When it comes to cleansing, I always use face wash. I don't like wipes; I use a face towel to minimize my carbon footprint. I always make sure to tone my skin and I love applying oils."
Best-kept beauty secret:
"I never leave home without concealer, but my real beauty secret is to smile. When you smile, I mean, really smile and not think about how you look; I think that's so beautiful."
Photo: @mayasworld
Evelina Barry Of Life With Evelina
Best-kept beauty secret:
"To make your eyelashes really long, cut up cotton balls into tiny fibers and apply them to your lashes before adding mascara. Build fibers and mascara to make them longer and longer. My mom taught me this; it really elongates your lashes."
On confidence:
"I make sure to remove my makeup, exfoliate and moisturize every single night; this is so important to me. Good skin makes me feel confident. Good skin and tamed eyebrows."
Photo: @evelinabarry
Charis Lincoln Of Charisma Star
Go-to beauty product:
"I never leave home without eyeliner or mascara, above anything. For my skin, I wash my face everyday with Clean and Clear Facial Cleanser and moisturize with Ponds cream; it really makes my skin soft."
On confidence:
"In my videos, I talk about finding things that you love about yourself, writing them down and posting them up on your mirror. When you're not feeling good about yourself, look at these things and really believe them."
Photo: @charismastar