Fans Have Been Waiting On This Westman Atelier Drop Since The Brand Launched
@westmanatelier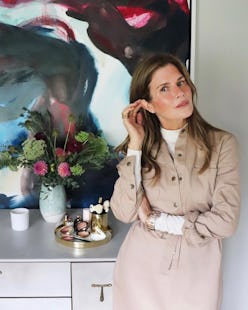 We may receive a portion of sales if you purchase a product through a link in this article.
Gucci Westman has enough stories from her decades working on film sets and at fashion shows to fill more than a few memoirs, but Westman's way of summing up everything she's learned is, thankfully, much more tactile. Today, the celebrity makeup artist's eponymous Westman Atelier collection welcomes its latest launch, a skin serum that's at once totally different from everything else in the line, yet totally complementary. As Westman Atelier's first-ever skin care product, the new Skin Activator serum combines four distinct types of hyaluronic acid with a slew of other industry-favorite ingredients for a distinctly dewy, radiant effect that's equally suited for layering under makeup as it is going proudly barefaced.
Naturally, though, pivoting from developing cosmetics to topical skin care products requires more than just a new visits to the lab. Westman, co-founder and creative director of Westman Atelier, tells TZR that the serum took five full years and some of the world's leading skin care scientists to create and perfect — all underscored by Westman's legendarily discerning eye. "I have extremely high standards and I wanted to make sure we had it just right," she explains, pointing to the fact that she and the team deliberated over fragrance inclusion for nine months alone (spoiler: fragrance-free won out). Ahead, an inside look at the creation of one of the year's most wished-for releases.
Considering Westman's sterling personal and brand reputations, it was crucial to nail the first Westman Atelier skin care launch right out of the gate. Westman's said that the Skin Activator serum was originally inspired by her 25 years of industry work, lending her signature luminous look to movie stars to models — think Jennifer Aniston, Anne Hathaway, and Cate Blanchett's Annie Leibowitz-shot Vogue cover. "I wanted to start with something that was hydrating because I truly love the feeling when my skin is juicy and supple," she tells TZR. "I used to use heavy creams, but it would only feel hydrating from a superficial standpoint and then a few hours later it would feel dry again."
Westman's long been interested in the science of skin care, too, which she traces back to her own complexion issues over the years and (very relatable) attempts to solve them with overly harsh, aggressive actives — that classic "that is what I should do to feel the potency" line of thinking, she says. Westman Atelier's Skin Activator flips that approach on its head, instead keeping the skin's all-important moisture barrier as a primary focus.
"We worked with the leading skin care scientist in Korea, who invented the multi-lamellar emulsion," Westman shares. Lamellar structures are thin membrane layers of skin's fatty acids, and multi-lamellar emulsions (MLEs) near-perfectly mimics those naturally-occurring structures. This essentially dupes complexions into accepting these emulsion products as their own, self-made fatty acids, which triggers the skin barrier to act as it would if it weren't compromised.
Created by Dr. Raymond Park, who oversaw Westman Atelier's skin care development, the technology's been studied at length and lauded as a serious scientific breakthrough. "With this technology, we were able to use 12 potent ingredients that work together to achieve a healthy skin barrier," Westman says. She ticks off four individual types of hyaluronic acid, niacinamide for even tone and texture, prickly pear cactus extract to soothe, noni fruit to support natural collagen production, peptides to smooth lines, and EGCG (an antioxidant-filled plant compound found in green tea) to mitigate further premature damage.
"The formula speaks for itself, and you will see results immediately that will last long term," says Westman, who applies a few pumps to cleansed, dry skin every evening. "This is the one product I use for hydrated, juicy, nourished skin." For some sustainable edge, Westman and her team also designed the packaging as their first refillable launch, an aspect she's personally very excited about. While it's still only the first skin care product from the Atelier, suffice it to say there will be plenty of others coming soon enough.