I Started Testing Wedding Day Skin Care A Year In Advance — Here's What Actually Works
@jenniferbehr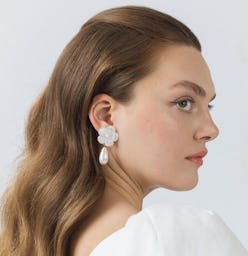 We may receive a portion of sales if you purchase a product through a link in this article.
We're all friends here, so I can go full disclosure. Despite a year and a half of meticulous planning, there are plenty of regrettable things about my March 2023 wedding: forgetting to personally go over the band's setlist, getting accidentally locked in a dressing room during dinner, and not trying hard enough to actually eat the wildly expensive cake. If there's one area that helps me sleep soundly, though, (you know, aside from like, being married), it's the commitment I made to testing and perfecting my wedding skin prep lineup. In addition to the standard pre-wedding facials, targeted treatments, and a few tweakments like forehead Botox, I dedicated several months to testing out the right products for the week of and the big day itself. By starting well in advance, I was able to experiment with masks, moisturizers, and several facial tools to see how they interacted with my skin, what paired well with makeup, and how long their effects lasted. Control freak-ish considering the makeup artist came prepared to do it all herself? Perhaps. But I was never what you might call a relaxed bride — it's called being hands-on, people!
Below, the hero products that saw me through a week of pre-wedding prep and events, and the ones that got me aisle-ready on the actual day. If I could go back and do it all again with an infinite budget, I'd still stick with these.
Skin Care For Wedding Week
Skin Care For Wedding Day