Why You Should Update Your Fragrance For Vacation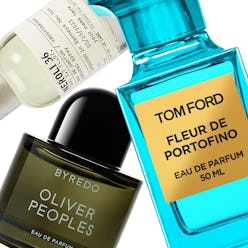 The best memories are usually created while soaking up the sun on vacation. It's no wonder specific scents from our favorite destinations—like island gardenias or fresh cut grass—bring a smile to our face. This association can literally transport you from your cubicle to the tropics, which is why so many fragrances we pack for trips end up becoming mainstays in our beauty cabinet. We asked Team Zoe what perfumes they will be traveling with this summer—the resulting list is a mix of under-the-radar eau de parfums, unisex colognes and iconic fragrances. One thing is for sure, a vacation scent has the power to last much longer than your actual trip.
Team Zoe's Favorite Vacation Fragrances
Fashion Director, Nicky Deam
"I try to minimize the beauty products I haul on vacation so I typically just take Nuxe's dry oil and use it as my fragrance, hair serum and post-shower body oil. The scent is lighter than my more masculine everyday perfume and instantly gets me in the vacation mind-set (along with multiple margaritas)."
Assistant To Rachel Zoe, Courtney Ross
"This orange blossom scent is sweet and fresh and at the same time, reminds me of the beach. I want to wear this on a tropical vacation!"
Fashion & Beauty Editor, Kristi Mikesky
"I'm in love with Fiele's Viola scent—it's the perfect balance of sexy, earthy and green. To me, it feels luxe yet outdoorsy, which makes for the perfect perfume to wear during summer vacations to Aspen."
Beauty Editor, Stephanie Montes
"The first time I went to New York City, I packed the only travel-sized perfume I owned and wore it the entire time I was there. Now every time I wear it, the smell of vanilla, jasmine and musk takes me back. Fun fact: I got two compliments on it by two different strangers on the same day."
Fashion & Beauty Editor, Shannon Nash
"For my upcoming trip to Kauai, I'll be packing the new Byredo + Oliver Peoples collaboration. The fragrance is green and piney which is perfect for the islands and the chic sunglasses are lightweight enough to wear all day at the beach."
Styling Associate, Lindsay Pogemiller
"For my vacation in Cabo San Lucas I brought Tom Ford's Fleur de Portofino. I love that it smells floral and vibrant, with a hint of citrus."
Accessories Editor, Jennifer Ash
"Unless I happen to stumble upon a sample-sized vial of perfume when packing for a trip, I'll most likely be using my boyfriend's unisex fragrance on vacation to avoid overstuffing my suitcase. Just don't tell him."
Sarah Aguas, Brand Integration Director
"This surf spray is by far the best I've ever used—it works in your hair for beach waves and on your body as a lightweight fragrance."