TRESemmé's New Training Program Is Bridging The Natural Hair Education Gap
TRESemmé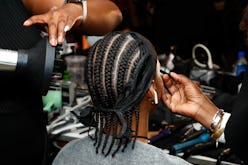 Actionable steps toward inclusion have never been more important within the beauty industry — and TRESemmé is committed to playing its part. In a move aimed at equalizing the salon experience for all hair types, the legacy brand just unveiled the all-new TRESemmé Texture Certification Program for professional hairstylists to improve their expert understanding of textured hair. The program will train cosmetologists across the country in the chemistry, treatment, styling, and care of textured hair, granting professionals who have completed the course with a special certification acknowledging the education. For so many who have experienced neglect, indifference, or incapability on a salon visit, the new program — especially considering it's coming from the U.S.'s top styling brand — is a welcome (yet long-awaited) course correction towards true inclusivity.
The Texture Certification Program was created in partnership with textured hair education expert Diana Da Costa, whose own SimpleeBEAUTIFUL CurlyTexture Academy offers workshops, classes, live streams, and one-on-one tutorials on textured hair care and styling. "I am extremely passionate about textured hair care and have dedicated my career to educating stylists and consumers on how to truly care for textured hair types," Da Costa says in a press release announcing the new initiative. "Partnering with TRESemmé not only brings awareness to this industry-wide issue of hair discrimination but will introduce this much-needed skillset to more stylists nationwide."
Ahead of the program's launch, TRESemmé orchestrated a nationwide survey called the TRESemmé Hair Bias Report through which the brand polled consumers, clients, and hairstylists themselves. Through the polling, the brand learned that 86% of Black women report difficulty finding a consistent, quality service at salons — and that includes everything from stylists who don't know how to care for their hair type to full-on discrimination. From the same survey, 65% of professional stylists polled (and 70% of white stylists in particular) say they need more training on caring for textured and coily hair. That's in large part due to the fact that no cosmetology licensing departments require even a baseline understanding of textured hair — an especially shocking fact when you consider that Black women make up the lion's share of beauty-centric spending in general.
The education gap is apparent, and TRESemmé and SimpleeBEAUTIFUL — along with two of Hollywood's most sought-after hairstylists — are bridging it through the comprehensive certification program. Celebrity stylists and TRESemmé ambassadors Lacy Redway (who works with stars like Alicia Keys and the Williams sisters) and Nai'vasha (who counts Chloe Bailey and Tracee Ellis Ross among her clientele) are helping the brand shape the program's curriculum and education component, leading the courses along with Da Costa.
The Texture Certification Program features a three-pronged approach to training, split up into a trio of sections. Texture Fundamentals is a live webinar going over the basics of textured hair care which an emphasis on vocabulary, product and tool picks, and identifying a diverse array of hair types. As the program's foundational course, it's a prerequisite for the two classes that follow. After completing Texture Fundamentals, the stylists move on to Perfecting The Textured Cut and The Art Of Textured Styling, both of which are in-person, hands-on training modules based in New York. By the end of this year alone, TREemmé's goal is to certify more than 1,000 stylists through the program — and they're starting in-house. As part of the inclusive initiative, TRESemmé is requiring all stylists who work with the brand (that includes Fashion Week Shows and on Project Runway) to complete the program first, ensuring they're more than capable of working with all types of hair.
Available on a first-come-first-served basis, registration for the program opens today, April 27, and closes on May 31.