Too Faced Better Than Sex Sells Every 7.5 Seconds — Here's Why
Too Faced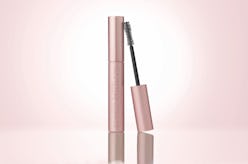 Cult Status is our series that highlights an iconic item from brands both established and buzz-worthy. In these features, you'll discover the fascinating history of how one extra-special piece exceeded expectations and became a forever product. This time, the focus is on Too Faced's Better Than Sex Mascara.
The provocative name made it instantly intriguing, the fluffy hourglass wand piqued interest, and the dark inky formula solidified the obsession. It was the mascara launch that made everyone blush and subsequently set the beauty universe into a full frenzy, with an echo of oohs and ahhs as beauty lovers around the world discovered the most desirable mascara to ever grace their lashes. Its name is Too Faced Better Than Sex Mascara, and the $24 tube has been blessing vanities around the world since 2013, setting a gold standard for seriously fabulous flutter.
It's a lofty claim comparing a lash lengthening mascara to the most intimate personal human experience known to mankind, but if you've ever swiped this wand yourself, you've likely had that explosive moment that reminds you it's not too far from the truth. So what's in the name? It stems from a story about Jerrod Blandino, founder and Chief Creative Officer, whom the brand fittingly described to TZR as the Willy Wonka of cosmetics.
"We worked on Better Than Sex for three years to make sure it was right — the brush, the formula, the stopper, everything — and when we got the perfect submission back from the lab and our product development team tried it on, Jerrod looked at their lashes and screamed like a child on Christmas morning, 'Oh my god, that's better than sex!' and our iconic mascara was born," Elyse Reneau, Too Faced Global Pro Artist, tells TZR.
So what makes this mascara different from all the other lash-perfecting formulas the beauty universe swears by? The short answer: everything. Let's begin with the brush. This one boasts fluffy, tightly packed bristles of various lengths aligned in a sexy hourglass shape that catch, comb, and coat even the tiniest baby lashes you didn't know were there. But this isn't just any curvy wand. "The hourglass shape was modeled after discovering the bust-waist-hip ratio of an iconic silver screen blonde bombshell," Reneau says. "Jerrod tried many different wand shapes but this specific curvature held the perfect brush silhouette that separates, coats, and curls each lash to voluptuous perfection."
I'm not one to judge — especially in the name of bombshell lashes — but this wand gets around. One Better Than Sex Mascara is sold every 7.5 seconds, the brand shares with TZR, hammering home the love affair. It's the number one selling prestige mascara in America and holds strong as the brand's best-selling formula since launch in 2013, the brand claims. And on the October 2018 list of Top Rankings: Eye, Cherry Pick listed the mascara number two in terms of consumer purchase intent.
As you might expect, the proprietary formula is held under lock and key, but there are a few ingredients the brand does reveal as part of their secret sauce. "Film-forming polymers help lock the curl in place, Acacia Senegal tree extract helps plump for volume, and peptides help condition the lashes so you don't have that crunchy feeling and you can stretch the lashes to unbelievable lengths," Reneau says. Even the brushed pink metallic tube was a power move, breaking from the script of traditional prestige mascaras which, at the time, were only available in a classic black tube. At this point, you're probably thinking a mascara this good deserves its own holiday, and you're exactly right. Precisely why the brand dubbed February 10, International Better Than Sex Day to celebrate the beloved formula in all its glory.
While some people would prefer to keep their sex life private, this formula gets people talking. The brand amassed over 14,000 Sephora product reviews, along with organic praise from notables like Kylie Jenner. "I was introduced to BTS from Kate Hudson, who told me how amazing it is," Quinn Murphy, a celebrity makeup artist, shares. "It's not for the faint of heart. It's a full, black, and intense lash, and the shape of the wand allows you to push the mascara right into base of the lashes and lift and curl," Even super-celebrity fans like Madonna have taken to Instagram to share her lash secret and love for Better Than Sex.
Playing into the hype and demand of the Better Than Sex launch, Too Faced added an obnoxiously adorable mini tube to the lineup, along with a waterproof version, and most recently a Better Than Sex Eyeliner which debuted earlier this year. According to multiple 2019 reports from Cherry Pick, when considering the entire Better Than Sex lineup, Too Faced is the #1 mascara brand ranked by consumer demand on social media.
For any fellow mascara fanatics who are forever in search of ways to get orgasmic lashes, Reneau has a few tricks up her sleeve. "My golden rule is to apply mascara to your bottom lashes first to avoid getting wet mascara all over your lids," she explains. "Second, I like to gently touch the wand to the base of lashes to help tightline the eyes and makes it look like you're wearing eyeliner in a seconds." While the good old shimmy-swipe technique will get the job done, Reneau recommends applying mascara starting at the base, wiggling out, and tipping the ends of lashes, where you take the wand to the tip of the lash and comb upward to help extend the length and lock in the curl.
Still not satisfied? Don't fret. The brand recently teased the launch of a new Damn Girl mascara, to launch June 6... and I have a feeling that it'll be a real crowd pleaser, too.