Too Faced's Better Than Sex Line Is Expanding With Eyeliner — Here's When It Launches
ImaxTree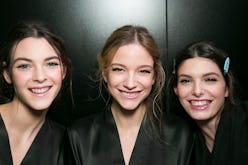 Novels could be written about Too Faced's Better Than Sex mascara. (Although, if you compile all the audio from YouTube videos gushing over how it thickens, defines, and lifts lashes, you probably have one.) It's the best-selling prestige mascara in America, with an endearing popularity that sets a new standard for what it means to be a cult beauty product. As you can imagine, the Too Faced Better Than Sex eyeliner has a tough act to follow.
Yes, the endlessly popular mascara is getting its very own eyeliner. The Better Than Sex Easy Glide Waterproof Liquid Eyeliner launches March 17, and fans are already losing it online; heart-eyes emojis are flying in at the speed of light on Too Faced's official Instagram announcement post. The liner is a few dollars less than the holy grail Better Than Sex mascara, retailing for $21 versus $24.
However, it still offers many of the same promises as the mascara. Like the original product, it's designed to be seriously long-lasting; Too Faced claims the eyeliner can stay put on your lids for 24 hours. The liner also comes in a deep black shade, matching the Better Than Sex mascara's dramatic, darkly-pigmented formula. And — because fans wouldn't expect anything less — the Better Than Sex liner comes in similar luxe pink packaging.
There is one small, interesting difference between the mascara and its eyeliner companion, though. While the Better Than Sex mascara is super easy to swipe on, it's not often considered a beginner's mascara — besides that not-so-subtle name, it creates volumized, high-impact lashes that may be too much for new beauty fans, or those who prefer a more natural look. In contrast, Too Faced is promoting the new product as an easy-to-use liner; the word "easy" is even in its official name, after all. Beyond that, Too Faced claims that liner won't smudge, fade, or flake, and will create sharp lines each time shoppers use it — no more angling a Q-tip to clean up your cat-eye.
Precise, pretty eyeliner is something any beauty fan can get behind, rookie or professional. Below, all the details you need about the upcoming Better Than Sex eyeliner before it drops.