These Weird But Genius Beauty Products Are Getting Wildly Popular On Amazon Now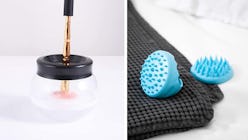 We may receive a portion of sales if you purchase a product through a link in this article.
In the beauty world, "weird" is no longer a derogatory term — in fact, it's typically a testament to a product's uncommon brilliance. Such is the case with the makeup, skin, and hair care products below. From "oddly satisfying" foot peel masks to an all-in-one color-correcting primer inspired by a swirled ice cream cone, all of these beauty products are rapidly earning cult followings on Amazon precisely because they're so unique.
Though they may be unfamiliar to you, these weird but genius beauty products are getting wildly popular on Amazon right now. Time to start experimenting.