The Future Of Your Beauty Routine Includes Eating And Drinking Your Products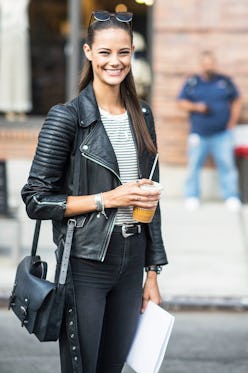 The term "you are what you eat" might be more relevant now than ever before—especially in reference to your beauty routine. The old-school approach to getting shiny hair and smooth skin includes 100 brush stokes a day and an arsenal of expensive night creams. Nowadays, your get-pretty routine is becoming a lot less traditional and a lot more ingestible (yes, as in edible and potable). Here, we're taking a peek at 7 beauty products meant to make you more beautiful from the inside out. From a collagen-inducing drink booster to a wrinkle-fighting chocolate bar, these picks are sure to blur the line between your kitchen cabinet and your vanity.
It's All About Inner Beauty
Drinkable Hyaluronic Acid
Spike your favorite drink with 2 teaspoons of this liquid hyaluronic acid to plump your complexion and keep skin hydrated.
Edible Wrinkle Fighter
Packed with a natural algae extract and loads of antioxidants, this vegan chocolate claims to slow the formation of wrinkles and sagging skin and even promises to show significant improvements in a 3-week period.
Powdered Collagen
Mix a sachet of this marine-based powder with smoothies, coffee, water (or any other beverage of choice) to naturally boost collagen production and maintain healthy hair, skin and nails.
Skin-Perfecting Pills For Oily Skin
2 antioxidant and omega-infused capsules per day repair skin, boost hydration and help regulate oil production. It's also suitable for vegetarian, vegan and gluten-free diets.
Drinkable Free Radical-Fighter
This cocktail of organic coconut water, aloe vera and lemon myrtle hydrate the body from the inside-out to combat dry, dull skin, fine lines and also fights free-radical damage caused by environmental stressors.
Antiaging Capsules
Vitamins A, C and E work together to improve your body's natural defense against environmental damage helping skin retain its youthful radiance. Fun fact: these supplements mimic those given to astronauts to protect them from rapid ageing experienced in space.
All-Around Beauty Booster
When mixed into a beverage, this powdered mix of raw vegetables, fruits, herbs, nuts, and seaweed increases collagen and silica production and hydrates and strengthens skin, hair and nails.