Here's How 16 Celebrities Are Refreshing The French Manicure Trend This Winter
@nailsbymei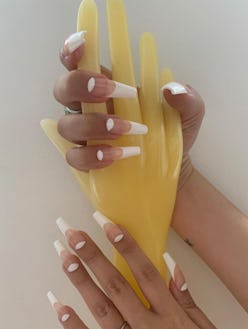 French manicures may have been considered "outdated" for a time, but that's certainly no longer the case; in fact, the old trend made an explosive comeback in 2019 — and since then, it's continued to evolve from its original chunky pink, white, and flesh-toned nature and into endless creative and colorful iterations. From ombré to rainbow, nail lovers may feel as if they've seen it all at this point — but if you count yourself in that category, don't despair. The winter 2021 iterations of the French manicure trend are here to prove everyone wrong.
It seems celebrities (and their ever-creative manicurists) are determined to keep this look going strong, meaning there's already a practically bottomless supply of French manicure inspiration for the new season. Yes, you can still stick with a traditional version — Bella Hadid's recent look is a beautiful one to copy, if that's your vibe — or, you can make slight updates, like Kendall Jenner's square shape and blue tips or Megan Thee Stallion's colorful embellishments.
As the manicures ahead prove, the sky's the limit this fall, and the more unconventional, the better. So whether you copy these shape for shape and color for color or simply use them as loose inspiration, rest easy that you'll be right on trend — as these 16 celebrities prove, the French manicure is here to stay.
This article was originally published on