The 5 Essential Rules Of Spring Skincare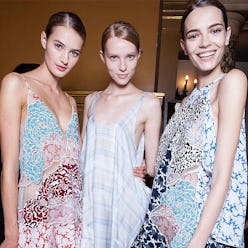 {{unknown}}
Photo: FirstView
Transitioning between seasons can be tricky when it comes to your clothes, your makeup and—perhaps most importantly—your skincare routine. Should you switch out all of your products with each temperature shift? Which items work best and when? We enlisted LA-based facialist Gina Mari to give us the lowdown on how to properly care for skin during even the harshest climate change. Here, she lets us in on everything you need to know about transforming your beauty routine with the season and what products get the job done.
Know how the season effects your skin:
"Be aware of environmental changes as well as what's happening with the temperature. In the spring and summer months, people tend to get dryer skin from swimming, air-conditioning and being in the direct sun."
I use avocado oil as a natural remedy to hydrate and heal damaged skin.
Always use sunscreen–even when it's not sunny:
"Sunscreen with an SPF of 30 or more blocks 97% of UVB rays if properly applied. Sunscreen does have an expiration date–after a year, it's less effective and should be replaced. Lastly, a cloudy spring day doesn't mean you won't get burned: In fact, 80% of the sun's harmful rays pass right through the cloud layer, so pretend it's sunny and reach for that bottle."
Storing your off-season skincare stash:
"Unless the products are opened and over a year old, there is no need to dispose of them every season. If the product is sealed, it can last up to 3 years if stored in a cool, dry area."
The 1 product you need for spring:
"Toner! When the appropriate toner is applied (after cleansing and before serum), it manages your skin's PH levels, enabling your complexion to naturally create the oil as it needs to keep it hydrated."
Spring, which is also known as allergy season, calls for a hydrating serum.
Battle allergy season like a pro:
"Serum strengthens the skin's barrier and keeps broken capillaries—which can happen when you sneeze—at bay. If your allergies trigger dark circles, a serum with soy peptides and organic red tea provides hydration, boosts circulation and decreases the appearance of under-eye bags."
Don't forget the rest of your body:
"Make the transition into spring an easy one by working a light exfoliator into your daily routine to slough away dry winter skin. Get a subtle glow by using self-tanning moisturizer that infuses vitamins and antioxidants into the skin, creating a streak-free, natural looking tan. If you feel your skin seems more itchy and flakey than usual, use a moisturizer that targets dry skin–it makes a difference."
Spring Essentials