These Smoothing Oils Give Me Bombshell Hair When I Have No Time
@myceremonia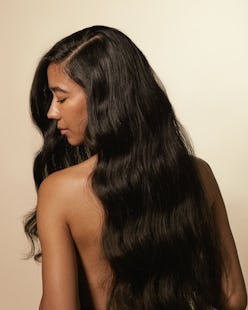 We may receive a portion of sales if you purchase a product through a link in this article.
My hair is what I describe as the "90s teen" variety, as in it is very fine and I have an overabundance of it. This is both a blessing and a curse: On one hand it has the potential to be big, bouncy, and Cindy Crawford-fabulous with the right hot tools, round brushes, and someone who knows how to properly use them (this is 1000% not me). But more often than not I barely have time to wash my hair let alone attempt to blow dry it into submission, and the pouffy troll doll frizz sets in pretty fast. My only saving a grace on such rushed mornings is a smoothing hair oil.
By just gently rubbing a few teeny drops of oil at the ends of my strands (damp or air dried), I'm able to stave off the sort of haphazard fluffiness that come from having hair with lots of body but an oddly crimp-like wave. I'm not saying the results are exactly like getting a professional blowout, but they are a close enough way to fake it that I'm more than fine to settle for second (even third) place. Plus, on the rare occasion that I do have time to sit down in a chair and have someone do all the washing, brushing, and heat styling for me, my at-home oils can stretch the results out a little bit longer.
If you, like me, are looking for a little help making your hair shinier and silkier with minimal effort — or just want a little extra hydration — shop my favorite 10 formulas of the moment ahead. A word to the wise: A little goes a long way! I stick with no more than two or three drops and only rub them into my ends.