Pro Tips For Pretending That Long Flight (Or Hangover) Never Happened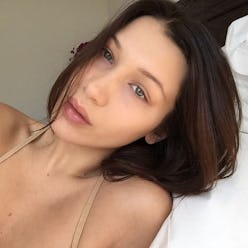 We all have those days when we're not exactly on top of our game—following a long-haul flight, indulging in too many cocktails or just suffering through flu season. Let's face it, looking your best when you're not feeling so hot is easier said than done. Here, we tapped skincare ingredient expert and founder of Skin Inc., Sabrina Tan, for some insight on the ingredients that get you up and running again no matter what. Fake it 'til you make it, right?
When You're On A Long Flight...
"Your skin tends to get dry and dehydrated on a plane. Make sure to pack a couple of products with hyaluronic acid (a natural humectant that draws moisture to the surface of skin) to keep your complexion nourished and pumped. You can also reach for products that contain glycerin—another high-quality humectant. These 2 make the perfect in-flight pick-me-up."
When You're Hungover...
"After a night of cocktail indulgence your skin looks dehydrated and fatigued. Reach for a face mask to restore the glow to your complexion. My secret to a healthy glow is multimasking. I use a brightening mask on the high points of my face, vitamin A on my dark circles and a hydrating mask on the rest of my face."
When You're Sick...
"I take vitamin C supplements daily but they're especially important if you have a cold or the flu. Vitamin C topically combats skin dullness and licorice extract helps to calm inflammations. Look for both of these when you feel under the weather."
When Your Skin Is Dry From Cold Temperatures...
"Ceramides create a barrier on the skin to keep hydration in and drying effects of freezing temperatures out. Applying products that include ceramidin in the ingredients during winter months protects skin against further moisture loss."