The 3-Step Morning Skincare Routine You Should Be Following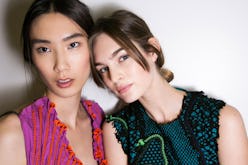 We slather on multiple products at night in an effort to achieve gorgeous skin, but properly prepping your face in the morning is just as crucial. To begin the day with immediate radiance and a smooth canvas for makeup application, we've discovered a three-step formula to swear by. Here, the sequence of serums, moisturizers and primers to follow every day when you wake up for a seriously flawless complexion.
Morning Glow
Step 1: Apply A Correcting Serum
Serums aren't just for nighttime use. Perk up your skin in the morning and energize your complexion with a boost of radiance.
Step 2: Add A Protective Moisturizer
Follow up with a moisturizer containing SPF in order to avoid the aging and damaging effects of the sun while also locking in hydration.
Step 3: Top With A Perfecting Primer
Whether it diffuses light, blurs pores and blemishes, or leaves you with a luminous glow, a primer creates the perfect base for your makeup to set, which keeps your look immaculate all day.