How To Not Look Too Pale (Or Too Tan) During Winter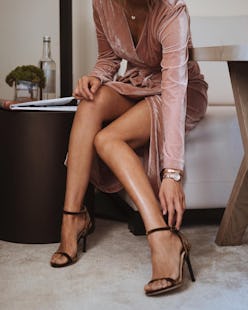 Just because the temperature has dropped to glacial proportions doesn't mean we have to embrace winter's consequential pallor. We're all about year-round glowing skin, but we're warning you: there's a fine line between looking pale and overly tan in the middle of a blizzard. To help you not cross that line, we're sharing our best tips for faking sun-kissed limbs this season. If you're going to do it, be sure to do it right.
Cold-Weather Glow
For A Super Subtle Glow
Unless you took a weekend vacation, showing up to work on Monday with deep bronze skin will look obviously fake. Opt for a gradual tanner to build subtle color, which looks more natural and won't come with curious stares.
For The Deepest Tan (That Still Looks Natural)
If you'd rather not wait for the color to build over several days, look for an express formula that lets you control the development time—that way you can wash it off when the shade is just right.
For Instant Results
Sometimes you don't really know how pale you are until you throw on your favorite LBD. For times like those, have an instant bronzer on hand for immediate (and temporary) results.
For A Sun-Kissed Complexion
Don't forget your face—it is the first thing people see anyway. Liquid and oil-based bronzers can be mixed with your foundation to give it the kick it needs, without going overboard. Apply it wherever you'd tan naturally—forehead, bridge of the nose, cheekbones and chest—and blend outward with your fingers.