Dermatologists Love Layering Skin Care Treatments For This Important Reason
Get better results with less appointments.
TZR; Liliya Rodnikova/Stocksy; Getty Images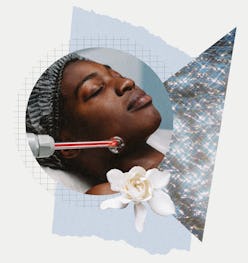 You know the drill: you book a skin care treatment and block out a few extra days for recovery (no one wants a peeling forehead at a dinner party). But oftentimes, another little skin concern sends you right back to the reclining chair in your dermatologist's office and disrupts your social calendar all over again. Fortunately, the newest way to deliver maximum results while saving you time is through skin care treatment mixing (also known in the aesthetics space as laser stacking, combination therapy, and treatment layering). This practice of combining skin care treatments into one single session is quickly becoming dermatologist's favored way to tackle multiple concerns at once.
"Unfortunately, at this time, there isn't one laser or energy device that can treat multiple conditions with optimal results, so combinations are key" says Dr. Jeremy Brauer, a New York City based board-certified dermatologist. "As these treatments become safer and more effective – with fewer side effects and better outcomes - they are also becoming more widely accepted by the public."
Dr. Jessica Weiser, a New York City-based board-certified dermatologist, concurs. "Since most skin has more than one desired area of refinement, synergistically layering treatments allows not only improvement for multiple concerns at the same time, but can limit overall patient downtime."
And both experts agree that consulting with a board-certified dermatologist to create a customized treatment plan is imperative, as this is not a simple mix-and-match situation. "The combinations must be carefully thought out to ensure that the downtime is not additive, and to make sure there is no risk of excess heat in the skin," warns Weiser. That said, she adds that the recovery from a combination service can be even better than a single treatment on its own.
Ahead, TZR checked in with several leading skin care experts to share their favorite cocktails for various common skin care concerns, along with the potential risks of this treatment strategy.
The Best Skin Care Treatment Combinations
Vascular Laser & Fraxel Or Coolpeel
Dr. Nancy Samolitis, co-founder and medical director of Facile in Los Angeles, says a laser that treats redness and broken blood vessels (known as a vascular laser) and resurfacing lasers (like Fraxel or Coolpeel) are two of the most common devices combined in single treatment because they smooth texture and even skin tone. "These treatments can also be done on the same day as a skin tightening treatment using ultrasound or radiofrequency energy because in this case, the different devices are targeting the skin at different depths."
Dr. Weiser adds that the vascular and resurfacing pairing is also excellent for more severe acne scars. "Once the active acne has been fully controlled, the combination of vascular laser to remove red scars with resurfacing lasers for treatment of textural scars can be an excellent combination for the global reduction of acne scarring."
Clear + Brilliant Touch & PicoSure
Depending on the severity of the background discoloration, wrinkles, or skin laxity, a non-ablative fractional laser treatment (like Clear & Brilliant Touch) coupled with a picosecond laser for discrete pigmentation (PicoSure or PicoWay), is amongst Dr. Brauer's favorite combinations. He first uses the fractional laser to help with pigmentation and to tighten the skin. He'll follow it up with a picosecond laser to target defined dark spots or sun damage. However, prepare for a week of downtime. "During the first two days, you can expect redness and swelling, then this transitions to what looks and feels like sandpaper for the remainder of the week," he says.
Radiofrequency Microneedling, Laser Resurfacing, & PRP
The use of radiofrequency microneedling can deliver a controlled heat stimulus to various levels of the dermis which stimulates collagen production by the body, says Dr. Weiser, adding that radiofrequency heat helps to improve firmness and texture. A common additive treatment is to use a non-ablative resurfacing laser on the same day to improve pigmentation, soften fine lines, and to create an overall more youthful complexion. "The combination of firming and tightening with brightening and smoothing is a dramatically improved outcome with no added downtime or healing for the patient." She adds that these services can be very effective on their own, but when combined with PRP (Platelet-rich plasma injections), they have even better benefits, including more efficient healing, growth factor-induced collagen and skin texture improvements.
Fraxel & Glacial Glide
Dr. Sonia Batra, a board-certified dermatologist in Santa Monica, Calif., says that she combines the re-surfacing laser Fraxel with Glacial Glide by GlacialRX, a non-invasive CryoAesthetics treatment that improves skin tone and texture but also decreases the intensity of post-procedure redness and swelling. "Ablative laser treatments such as Fraxel heat and resurface skin but often look and feel like a bad sunburn while healing," she says. "A Glacial Glide treatment can be performed immediately afterwards to decrease inflammation which results in a faster and more comfortable recovery."
IPL & Radiofrequency
Energy-based devices can be safely combined to target color, texture, and tone of the skin, says Dr. Batra. "The Tribella protocol from Venus Concept layers treatment with their IPL device to target brown spots and vascular areas, a multi-polar radiofrequency device to improve tone, and then a NanoFractional radiofrequency device to improve texture," she says. She likes to stack these treatments because each device focuses on a different aspect of skin rejuvenation and it consolidates in-office time.
What Are The Downsides Of Treatment Layering?
While the benefits of treatment layering are tempting, it's important to know that there are some downsides to mixing multiple services at once. "I used to do more of this combination therapy, but not as much anymore because [depending on the treatments mixed] it can result in greater discomfort and swelling" says Dr. Samolitis. "A lot of my patients prefer to combine these treatments by simply alternating – spacing them out a few weeks apart." She adds that people of color have a higher risk of post-inflammatory hyperpigmentation which can be activated by excess heat, so doubling up on treatments can potentially be a disadvantage.
If you're interested in potentially consolidating your in-office skin treatments, scheduling a consultation with your dermatologist will be the best course of action in determining whether treatment layering is the right way to address your skin care concerns.