I Can't Go To Sleep Before Doing This Simple But Effective Skin Care Routine
The ultimate nighttime product lineup.
Maggie Haddad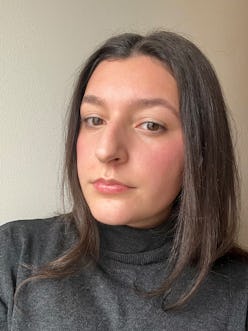 We may receive a portion of sales if you purchase a product through a link in this article.
Like makeup, skin care goes through phases and trends. One year people will be touting their 12-step skin care routines — the next, they're singing the praises of the "only product you'll ever need for perfect skin". After years of ping-ponging from one extreme to the other, I'm ready to settle... on a skin care routine, that is.
When it comes to my personal approach to skin care, I split up my products into morning and nighttime categories. In the mornings, I want to use only a few light, easy products that sit well under my makeup. Nighttime is when I really focus on whatever skin issues I want to tackle, so I'll add gentle but effective active formulas to my routine. Currently, I'm addressing the texture on my cheeks and typical winter dryness. However, I want to be clear: I'm not striving for perfect skin (does it even exist?). My goal is to take good care of my skin without overdoing it with harsh products.
I've run into issues in the past when I've tried to completely overhaul my skin care routine with a bunch of buzzy, flashy products. Instead of glowy, glassy skin, I always ended up with flareups and breakouts. Just because I learned the hard way doesn't mean you have to, too. Super simple skin care is what my skin responds to best, so that's what I've invested in. When I find products and brands that work well for me, I like to shout about them from the rooftops. So, please excuse my praises – I just like giving credit where credit is due.
While the routine I've settled into includes nine products, I wouldn't call it complicated. In reality, I only use four products every night: cleanser, serum, moisturizer, and lip balm. I use the other five products once or twice a week as treatments to target my current skin concerns.
However, the real MVP of my nighttime skin care routine is The Outset, AKA Scarlett Johansson's new line. Their products are minimal, streamlined, and have never irritated my skin. Even though celebrity beauty brands tend to receive a lot of criticism in recent years because they've been launching at a dizzying rate, this one is the real deal.
Keep scrolling for the holy grail skin care products that make up my nightly routine.