Rosemary Oil Is The Best Kept Secret For A Healthy Scalp & Stronger Hair
The ingredient went viral for a reason.
TZR; Shutterstock; Mielle/Aromatica/Camille Rose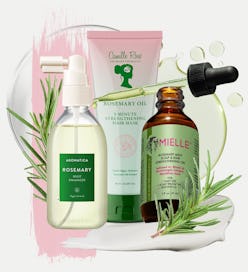 We may receive a portion of sales if you purchase a product through a link in this article.
With new products, brands, and categories popping up every day, beauty can be a bit overwhelming. Back to Basics is our rudimentary beauty series that serves as your crash course on the science behind some of the best formulations in the game. This week, we're taking a look at rosemary oil for your scalp.
The skin care industry often thrives on ingredients geared towards the face. From reducing fine lines and wrinkles to stimulating collagen production, there's no shortage of products designed to give your complexion the ultimate glow-up. But in reality, the skin on the rest of your body deserves the same care and attention. Enter scalp care, a category that balances sebum production and promotes hair growth. With the rise of specialized products, like oils and scrubs, a new set of ingredients have also risen in popularity. Rosemary oil is one such example. Long revered for its connection to hair growth, the essential oil is commonly found in shampoos and conditioners. But the many benefits of rosemary oil for the scalp also make it a star ingredient for maintaining healthy hair.
Like many essential oils, rosemary has a scent that can instantly calm and relax your senses. While the aromatherapy benefits are nothing new, the plant's extracts have been used to protect the skin against common concerns like dryness, irritation, and infection for many years. Combined with its ability to stimulate blood flow and circulation, it's no wonder this gem is starting to gain a cult following.
Ahead, two skin care experts break down the basics of rosemary oil, including who it works best for, how to use it, and the best ways to incorporate it into your current routine.
What Is Rosemary Oil?
Rosemary is a plant that's loved for both its culinary and medicinal properties. Known for its earthy and herbal flavor, it's frequently used to season poultry, meats, and produce. In terms of skin care, rosemary oil brings a similar set of invigorating benefits. But from your plate to your skin, reaping the benefits of its leaves requires some work. As an essential oil, rosemary must be diluted with carrier oils (such as argan, avocado, and jojoba) before it can be applied to your face or scalp.
What Are The Skin Benefits Of Rosemary Oil?
When applied topically, rosemary oil can be used to treat a number of skin concerns. According to Dr. Isfahan Chambers-Harris, trichologist and founder of Alodia hair care, "Some of the most notable benefits of rosemary oil are its antimicrobial and anti-inflammatory elements, both of which can be advantageous for preventing bacterial growth and irritation on the scalp." As you can imagine, this also makes it a great agent for combating breakouts.
For facial skin, Dr. Chambers-Harris tells TZR that rosemary oil may contribute to a smoother appearance thanks to its ability to thoroughly penetrate and hydrate the skin. "By nature, the oil adds a light layer of moisture to the skin's surface," she says. This keeps it moisturized and helps prevent issues such as dryness, flaking, and itching. One study also shows that products made with the ingredients can lightly boost skin elasticity when applied topically.
Perhaps the most popular benefit of rosemary oil is its ability to stimulate circulation and promote hair growth. "There is data suggesting that topical rosemary oil may be beneficial in treating hair thinning," says Dr. Joshua Zeichner, M.D., associate professor of dermatology, director of cosmetic and clinical research in dermatology at Mount Sinai Hospital in New York City. As he explains, the exact mechanism of how the oil works is still unclear. However, much of the research suggests that rosemary oil acts as an anti-androgen, blocking dihydrotestosterone, a hormone associated with hair thinning, from binding to its receptor.
Who Should Use Rosemary Oil & What Are Its Potential Side Effects?
Almost anyone can benefit from using rosemary oil for hair as it can nourish the follicles, prevent breakage, and improve its strength. However, when it comes to using it on the face and scalp, Dr. Zeichner advises you to take precautions. "Irritation is always going to be a risk when you're using any ingredient topically," he says. Dr. Chambers-Harris also agrees, noting that rosemary oil can be particularly finicky due to its potency. She tells TZR that when it comes to using it for your scalp or face, it's best to patch test in a small area before slathering the product all over to determine how it may affect you.
According to Dr. Zeichner, side effects from use may include redness, burning, and irritation. While most people may experience no issues at all, if you do, he suggests rinsing the area to ensure the product is thoroughly removed.
How To Incorporate Rosemary Oil In Your Skin Care Routine
"Rosemary oil is commonly used in a range of hair care products," says Dr. Chambers-Harris. That said, incorporating it into your current routine is more about finding a method that works best for your hair needs. "The oil itself can be used for a scalp massage to promote a healthier scalp environment and strong follicles," adds Dr. Chambers-Harris. However, if you're not particularly interested in applying the oil directly to your scalp, she suggests adding a few drops to your favorite hair mask to create a strengthening treatment.
Scalp serums are another product that frequently include rosemary extract. These products provide similar benefits with the addition of soothing ingredients that can help prevent future buildup.
As for frequency, Dr. Zeichner tells TZR that preference is the most denoting factor. "Incorporating it into your daily regimen for several weeks or even months is the best way to see increased growth," he says. But if your overall goal is to achieve a healthy scalp and well-nourished hair, rosemary oil is just fine to use in your typical wash day routine.
The Best Rosemary Oil Products For Your Scalp