I'm Taking Control Of My Fine Lines With These Editor-Vetted Eye Care Products
Masks, creams, and everything in between.
Vasilina Popova/Photodisc/Getty Images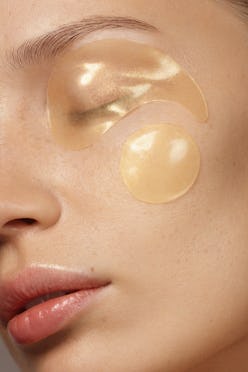 We may receive a portion of sales if you purchase a product through a link in this article.
I'm woman enough to to admit that, in times of stress, my beauty routine is often the first thing to falter — with one exception. No matter how busy, tired, or mimosa-whacked I may be, there is always time to take care of my eye area. Born into a family of sun-worshipping Italians, I was able to witness firsthand what to expect if I, too, threw caution to the wind. The lines come for us all eventually (if we're lucky, that is), but if I can stave off the Botox with the right tech, tools, and products for eye wrinkles, dedicating 20 extra minutes to that delicate swath of skin is more than worth it.
When building out an ideal eye skin routine for slowing or repairing signs of aging, there are a few crucial elements to look out for. "As we age, our skin goes through a number of changes including increased breakdown of collagen and elastin, and less production of new collagen, which results in wrinkle formation, thinning skin, less elasticity/sagging, etcetera," explains Ása Brynjólfsdóttir, director of R&D at Blue Lagoon. "The skin of the delicate eye area is very thin compared to the rest of the face," she says, in large part due to the zone's natural lack collagen and elastin fibers, as well oil-secreting sebaceous glands.
To combat the lines, volume loss, and darkness, my routine takes a multi-pronged approach to each. But a healthy attitude toward the entire process is just as important as using the right products. "A healthy and happy lifestyle along with quality skin care is key," Brynjólfsdóttir adds. "Drink plenty of water and make sure you get good sleep." I've got you covered on recommendations for that stuff, too.
Ahead, all the creams, masks, tools, and formulas I swear by for smooth, bright under-eyes.