Yes, You Can Wear Powder Foundation If You Have Dry Skin — Here's How
@milkmakeup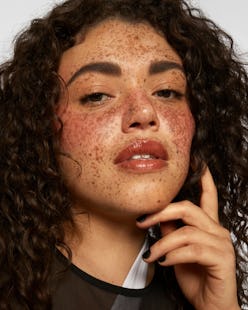 We may receive a portion of sales if you purchase a product through a link in this article.
If you're #TeamDrySkin, then you have firsthand experience with powder foundation's bad rap. The product has long been associated with oily skin because they soak up excess sebum while mattifying complexions. So those who don't have moist complexions have been told to steer clear to stick to liquid formulas with dewy finishes. The explanation? Because they're made of powder, which is naturally dry, it's assumed they'll cake up and cling onto dehydrated patches of skin. But if you're craving convenience or you need your makeup to last an extended period of time, a powder foundation may be a better option. And despite what you may think, you can wear one even if you have dry skin.
"Powder foundations are great because they're essentially a two-in-one: You get the coverage of a liquid plus the setting power capabilities of a powder," says Anthony H. Nguyen, celebrity makeup artist and KVD Beauty Global Veritas Artistry Ambassador. "They're quick and convenient, and great for everyday use for someone on the go." Thankfully, today's options are anything but chalky, featuring innovative formulas that offer versatility when it comes to coverage as well as a spectrum of types to choose from (like mineral, pressed, and mattifying). So if you have dry skin and are eager to experience the benefits of a powder, keep reading for expert tips on how to apply them.
The Different Types Of Powder Foundation
Like liquid complexion products, which range from lightweight skin tints to full-coverage foundations, you have options when it comes to powder foundations. "Loose powders will offer you the most natural finish when applied with a brush and are best for removing shine without offering much coverage," says Nguyen. "Pressed powders will give you medium coverage when applied with a brush, but are flexible and can be applied with a beauty sponge if you prefer more coverage." Finally, there are sheer pressed powders, which act as more of a finishing powder that nixes excess oils and creates a matte finish. These are typically applied on areas that produce more oils, like the T-zone.
Powder foundations come in several different finishes, too. "You can have a satin finish or straight matte finish, but some formulas even leave you with a glow from micro-particles that are embedded into the powder," says Jo Baker, a celebrity makeup artist and the founder of Bakeup. Another benefit is that they tend to be more user-friendly than liquid foundations, and they can be easily applied on-the-go. "I personally always travel with a powder compact in my handbag because it's easy to travel with on a plane or in my car, and I love being able to just dust my face really quickly," Baker tells TZR. "I like the ease of a powder foundation while on-the-go versus liquid."
How To Wear Powder Foundation On Dry Skin
Skin Prep
Getting your complexion ready for powder is key, especially if you have dry skin. "You'll definitely want to prep your skin with a hydrating moisturizer or serum, otherwise your powder foundation will look dry and cakey, and there's nothing for the powder to grab onto to provide coverage," says Nguyen. In terms of consistency, think lightweight. "I would opt for a non oil-based skin care product for weightless hydration, like a a hyaluronic acid serum, as thicker skin care and dense creams will cause your powder to cake up," says Baker.
Application
If you're looking to get maximum coverage from your powder foundation, apply it with a damp beauty sponge. "If you're on the go and you're looking for more coverage, you can dampen your sponge and press it carefully into the powder," says Baker. "Just spot, dab, and compress it onto the areas that you are targeting to build [it] up."
For lighter coverage, a brush will give you a softer, finer application. Baker recommends choosing a loosely compacted brush that is medium build versus a large, dense powder one or a kabuki style (these tend to be too tightly packed and can drag the product around the skin). "I also like using blush brushes because they create buildable coverage," she adds.
Post-Application
What you do to your skin after applying powder foundation is just as important as what you do before. Baker recommends setting your base with a hydrating setting spray. "Go for [one] that is lightweight and will add a sheen back to the skin to avoid that overly-powdered, flat-looking appearance to the skin," she says. Ingredients like hyaluronic acid, cactus leaf, and aloe are good ones to look for in a hydrating spray.
Now that you have your application method down pat, keep scrolling for the powder foundations to try. Plus, the skin care and setting products to use with them.
Powder Foundation Application Toolkit