How Team Zoe Tackles 3 Common Nail Snafus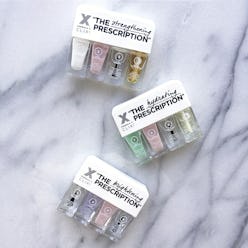 Keeping your nails looking healthy is no easy feat, especially when you're constantly changing polish colors and booking one gel mani after another. Luckily we keep our medicine cabinet stocked with The Prescriptions collection by Formula X. These 3 genius nail kits rehab our nails no matter what we put them through—and trust us, we put them through a lot. Here, see how Team Zoe's beauty department self diagnosed their most common nail ailments and which prescription keeps their nails in tip top shape.
The Doctors Are In
Problem: Dehydrated Nails
Solution: The Hydrating Prescription
"I'm really rough on my hands—between boxing class, washing dishes and never remembering to keep my hands moisturized, there's no shortage of breaking and peeling on my nails. The Hydrating Prescription conditions my nails and makes them look pink and healthy again. I even got a compliment on my nails recently—that's a first."
-Stephanie Montes, Beauty Editor
Problem: Dull Nails
Solution: The Brightening Prescription
"My go-to polish shade is a classic red, which unfortunately can leave my nails looking dull and stained between manicures. This Brightening Prescription includes a color-correcting polish and a sheer pink to give my nails life again."
-Shannon Nash, Fashion and Beauty Editor
Problem: Post-Gel Nails
Solution: The Strengthening Prescription
"Most regular nail polishes don't seem to last on me so I rely heavily on gel manicures. While I love the look of a pristine mani for weeks at a time, I try to give them some time to breath in between appointments. The Strengthening Prescription restores my weak, peeling nails and makes them feel strong again."
-Kristi Mikesky, Fashion and Beauty Editor