I Tried Moxi Laser To Get Rid Of My Dark Spots & My Skin Looks Brand New
Lara Adekola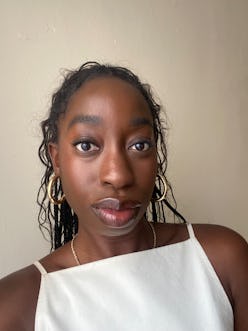 Standing Appointment is our review series that investigates the best new and notable cosmetic treatments in the aesthetics space and determines whether or not they are worth trying for yourself. This week, one writer tries the Moxi Laser.
I am currently in my Renaissance era. No, this isn't a cheeky nod to Beyoncé's iconic album (although it's still on repeat), but a bold declaration to be the best version of myself starting from the inside and out. With this mindset, I've focused on exploring new wellness rituals, such as meditation and pilates, but also experimenting with my skin care. As a self-professed beauty enthusiast, I've proudly curated a robust skin care routine that consists of serums with potent active ingredients (shout-out to vitamin C and retinol), creamy moisturizers, spot treatments, and hydrating masks. Sprinkle in a few high-tech gadgets like the sculpting NuFACE, plus facials here and there, and you'd think my face would be glowing straight from the heavens. Newsflash: Now that I'm in my mid-30s, I've noticed my complexion looking a bit dull despite all of my concerted efforts. I rarely get pimples, but a recent breakout left me with stubborn post-inflammatory hyperpigmentation on my cheeks that was taking an eternity to fade.
So when an email landed in my inbox from JECT NYC to try Moxi, a non-invasive laser treatment that addresses common skin care concerns such as enlarged pores, fine lines, sun damage, and hyperpigmentation, my interest was instantly piqued. On a quest to achieve the glass skin of my dreams, I decided to give it a try.
What Is Moxi?
Moxi is a fractional laser treatment by Sciton designed to rejuvenate the skin. There are two types of laser treatments: non-ablative and ablative. Ablative lasers remove the top layer of skin, but Moxi which is non-ablative, works by creating heat in the underlying skin tissue without damaging the surface. It uses laser energy at a wavelength of 1927 nanometers, targeting water within cells, making it a gentle yet effective option with less recovery time.
Molly Orden, ​​a board-certified physician associate at JECT shares, "The laser penetrates deep to stimulate collagen, promoting new cell growth and helping to improve the appearance of fine lines and wrinkles. It helps correct signs of aging, sun damage, uneven texture, and discoloration."
In as little as one treatment, skin texture is noticeably smoother, pores appear smaller, and pigmentation is reduced, revealing a fresh, healthy glow.
How Is Moxi Different Than Other Lasers?
What truly makes Moxi special is that it is safe for all skin types and tones. For years, lasers were only designed for use on fair skin, leaving Black and brown folks underserved. The lasers that target pigment run the risk of causing hyperpigmentation, burning, and scarring on darker skin — the very thing we're trying to avoid.
Thanks to new advancements in technology, however, people with melanin-rich skin now have options. Orden explains, "While the Moxi laser helps correct uneven pigment and gives you brighter skin, it does not target pigment, meaning, the wavelength of the laser itself is not targeting melanocytes. It is targeting water [within the skin cells]." This kickstarts the skin's natural healing process.
Nicknamed the "lunchtime laser", Moxi is a fan-favorite because it's a beginner-friendly treatment with minimal downtime. The procedure is quick, doesn't require nitrous or laughing gas, and won't have you dodging the sun for days. You can pop in for a "laser facial" at your local medspa or dermatologist practice, and proceed with the rest of your day uninterrupted. It's the convenience for me.
How To Prepare For Moxi
Before trying any treatment, I always do my research. My most pressing concerns about getting Moxi: Does it hurt? Will it actually work for my deep skin tone? How many sessions are necessary to see remarkable results? Will I peel like a snake? As a laser newbie, I was pretty clueless, so naturally, I went to TikTok for answers. The search results yielded glowing "before and after" testimonials, but the majority of the videos featured women with skin lighter or more textured than mine. Very few TikToks were of Black women, which made me a little apprehensive but it wasn't going to stop me from trying Moxi. To best prepare for my treatment, I made sure to avoid intense sun exposure for two weeks to prevent any pigment changes from the laser. The day of, I arrived to my appointment makeup-free.
My Experience Getting Moxi
Upon entering JECT's Christopher Street location I immediately felt at ease. Everything from the warm lighting, chic decor, relaxing music, and friendly staff let me know I was in good hands. After checking in with the receptionist, I filled out general paperwork and was guided to a private room. My practitioner, Orden, took some initial photos and explained the laser treatment process in detail, instantly calming any jitters or concerns that I had. A numbing cream the consistency of whipped cake batter was applied to my face that felt oddly satisfying and relaxing. It typically takes 30 minutes for it to fully settle in, so I asked her to show me how the device works.
Numbing cream application prior to treatment Courtesy of Lara Adekola
My skin immediately after Moxi treatment Courtesy of Lara Adekola
I kid you not, a machine that looked like it came straight out of a Star Wars movie appeared — and I knew it meant serious business. She gave me a pair of shades to cover my eyes for protection and we got started. The procedure takes about 10 to 15 minutes and it's very straightforward. An important thing to note is that Moxi has three levels of intensity: One is the lowest setting for gentle "pre-juvenation," two is midrange for revitalizing and refreshing, and three is the most intense for dramatic change. Not so fun fact: I have a very low pain tolerance, so I opted for level one, but most people are just fine starting at level two. The first pass of Moxi across my face was surprising. It felt like microneedling but spicier… an electric prick. Not the most comfortable feeling, but nothing unbearable.
Moxi Laser Courtesy of Lara Adekola
Moxi laser energy levels Courtesy of Lara Adekola
Once the process was complete my face felt extremely hot. It was red, sensitive, and tender to touch. I'd never experienced a sunburn before but my goodness, I'm pretty sure this is what it must feel like. My practitioner handed me a fan to cool off and told me to wait for the sensation to simmer down before leaving. It lasted about 30 to 45 minutes, thankfully. To alleviate the initial discomfort, it's recommended to stay out of the sun and wear a hat for an extra layer of protection for 24 hours. The next day, my skin felt rough and looked dusty — like teeny tiny coffee grains speckled all over — but nothing too noticeable.
What Does Aftercare Look Like?
Post-treatment, it's advised to not use skin care products with active ingredients for one week. This means no AHAs/BHAs, retinols, physical exfoliants, or formulas with corrective properties. Since the skin is technically wounded, it's recommended to focus on hydrating products, such as a gentle foaming cleanser, a rich moisturizer, and it's important to wear SPF daily. I kept my routine simple by washing my face with Cetaphil in the morning and Eadem Dew Dream, a cushiony nurturing cleanser, at night. Each day, I slathered on Dermalogica Dynamic Skin Recovery Moisturizer Sunscreen, my go-to SPF.
The Results
I can't lie, the most fascinating part of the experience was watching my complexion transform over the following days. The skin that was gradually peeling and coming to the surface is called MENDS, Microscopic Epidermal Necrotic Debris, and it's part of the healing process. "They may look and feel like little coffee grounds on the skin and give the skin a sandpapery texture," Orden explains. "They typically begin one to three days after the procedure and flake off around day seven to reveal brighter, refreshed, rejuvenated skin."
Initially, I didn't think there was much improvement in my skin because I was so focused on the MENDS. After a week my dark spots were a tad lighter but it wasn't as drastic as I anticipated. By week two, I began to integrate my exfoliators back into the mix, doubling down on moisture with the Rhode Barrier Restore Cream, and that's really when the results started to show. I returned to JECT for a follow-up appointment, unsure of whether I needed a second treatment, but my before and afters had me shook so I opted out. It was like I had the Paris Instagram filter over my face IRL. The hyperpigmentation on my cheeks faded and my complexion was visibly brighter, radiating a lit-from-within glow. My skin felt supple and my pores were literally snatched. I was sold.
My skin before Moxi treatment Courtesy of Lara Adekola
My skin two weeks after Moxi treatment Courtesy of Lara Adekola
How Much Does Moxi Cost?
One session of Moxi treatment averages between $600 to $850. With that said, it can range in price based on location, the practice/med spa, and the number of areas treated (face, neck, chest, etc). Laser treatments aren't cheap, so multiple sessions do add up.
Final Takeaway
If you're looking for a low-lift laser to boost your glow ahead of a major occasion or simply want to keep your skin in check throughout the year, I highly recommend Moxi. I appreciate that it's safe enough for my skin, and any person of color considering laser treatments. While I only had one session, I know with continued use the glow would be off the charts.