After Years Of Negligence, I'm Back On The Mattifying Powder Train
It's a must for gorgeous summer skin.
Angela Melero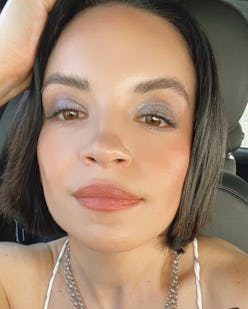 We may receive a portion of sales if you purchase a product through a link in this article.
At the ripe age of 37, glowing, youthful-looking skin is my top priority, so I typically gravitate towards the products and formulas that follow suit: liquid foundations, concealers, and skin tints, cream blushes and highlighters, dewy settings sprays, etc. I honestly haven't had much use for things like mattifying powders since my teens and early 20s when I battled oily, acne-prone skin. However, the recent years of increasingly hot warm weather months have caused me to see these sweat-fighting wonders in a fresh light, especially considering that the latest offerings are a far cry from the thick, cakey powders of the early aughts and 2010s. This summer in particular, I've found myself reaching for mattifying powders daily to keep my skin looking fresh, as layering all my go-to cream formulas feels too heavy and typically ends up slipping and sliding all over my sweaty mug.
Now, to be clear, just like foundation and skin tints, mattifying powders come in various formulas and purposes these days. (These are not your mother's single-toned ivory touchup powders that cover your face in a dust bowl by way of a giant powder puff.) There are sheer, translucent veil-like powders designed to set makeup and absorb shine. There are also many options that cater to a range of skin tones and blur imperfections and the appearance of pores. Some of the latest offerings even contain skin care ingredients to keep your complexion nourished. Then, of course, there's the OG mineral foundations (hello, bareMinerals) that offer the coverage of cream foundations and concealers. Clearly, our 2023 mattifying powder cup runneth over.
Personally, I've been rotating a few options for specific days and needs. For daily use, I've been patting Cle Cosmetics' new Hydro Blot Loose Powder over the label's SPF-infused CCC Cream (I'm a big fan of this brand). The formula contains hyaluronic acid and boasts a powder-to-liquid technology that keeps my skin looking naturally radiant and never cakey — perfect for work meetings, lunches, and general everyday activities. For special occasions like weddings and formal events, I'll typically reach for Beautyblender's Soft Focus Gemstone Setting Powder, to dust over a skin tint, as it offers a bit more coverage but still feels super airy and hydrating. Also, for hot days when my skin is being particularly problematic and I need to cover up a blemish or two (or four), I'll forgo liquid foundation completely and dust on a loose powder option after concealer.
If you, too, have had enough of this sweaty-skin summer, I encourage you to try some of my favorite mattifying powders below to keep your complexion fresh as a daisy until fall.