So *This* Is Why Manuka Honey Is In All Your Skincare Products Right Now
Naturopathica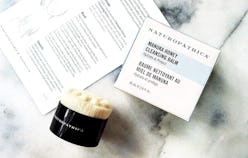 If Manuka honey wasn't so inherently good for you, I'd say I have an unhealthy obsession with the stuff. I gulp down a spoonful with my morning vitamins, I use it in DIY hair masks, I wash my face with it every single night (and I instruct anyone who will listen to me to do the same). But as it stands, my fanatical interest in this particular type of honey is totally healthy. With antioxidant, antibacterial, and humectant properties, Manuka honey benefits your skin, hair, and so much more — and modern beauty brands are fully on board.
A recent influx of Manuka-focused products may make it seem as if Manuka honey is The Next Big Thing (including L'Oreal's entire line of Manuka skincare and Cannuka's buzzy blend of Manuka and CBD), but the substance has actually been hailed as a wound-healer and skin savior for centuries in its native New Zealand. "For more than 2,000 years, this honey has been utilized as a natural home remedy for improving skin health," Dr. Rocio Rivera, Vice President and Head of Scientific Communications for L'Oréal Paris, tells The Zoe Report. Traditionally, it's known to heal burns, cuts, and scrapes — hospitals and burn units all over the world still use medical-grade Manuka — thanks to "its unusually high antibacterial activity," Dr. Tanuj Nakra, a dermatologist and the co-founder of AVYA Skincare, tells TZR. Today, it's more well-known for its acne-fighting and glow-ifying properties. It's so popular, in fact, that Dr. Sheila Farhang, board-certified dermatologist and founder of Avant Dermatology & Aesthetics, says the studies on Manuka are ever-frequent. "As a faculty for an Integrative Dermatology Certification Program, we have entire lectures and discussions dedicated to honey and its benefits," she tells TZR.
To be clear, garden-variety honey is great for skin and hair, too. "All honey has the enzyme glucose oxidase, which releases [antibacterial] hydrogen peroxide," Dr. Rivera says. But Manuka honey takes this to the next level thanks to ultra-high levels of an antibacterial substance called methylglyoxal. "This powerful antibacterial activity makes it a wonderful complement to acne-control skincare products," Dr. Nakra tells TZR, noting that Manuka simultaneously kills blemish-causing bacteria and supports the skin's natural healing process to clear up breakouts like that. DIY enthusiasts often use raw Manuka honey as a spot treatment for this reason (it's sticky but works wonders, I swear).
"Well-designed scientific studies have also shown that Manuka honey can provide benefits for healing cellular damage from sun exposure," Dr. Nakra says — and it may even keep said cellular damage from happening in the first place. "Manuka honey is rich in antioxidants," Angela Kim, the founder of Savor Beauty, tells The Zoe Report. As such, it prevents signs of premature aging (like fine lines, wrinkles, age spots, and inflammation) often caused by environmental aggressors. This makes Manuka especially beneficial for the scalp, since this oft-overlooked area of the skin is continuously exposed to UV and environmental pollution.
If luminous skin and high-shine hair is what you're after, Manuka can help in that department, too. "It's a natural humectant, meaning it draws moisture to the skin," Michael Bumgarner, the founder of Cannuka, writes to TZR in an email. "This makes it an effective hydrator without causing oiliness, improving complexion and reducing wrinkles," Dr. Nakra explains. It functions in much the same way for hair, drawing in moisture and sealing it into the cuticle. The result? Super-soft and shiny strands.
Dr. Nakra adds that Manuka honey benefits "skin turgor," which is essentially a marker of skin's elasticity (or its ability to "bounce back"). The ingredient also boasts a potent dose of docosahexaenoic acid, or DHA, an Omega-3 fatty acid that helps strengthen the skin's barrier. "Because of this, it can be particularly helpful for people with sensitive skin conditions like rosacea or eczema," Dr. Aanand Geria, a dermatologist with Geria Dermatology, tells The Zoe Report. Is there anything Manuka can't do? (Answer: Not really.)
Not just any Manuka honey can deliver all of these beauty benefits, though. Each batch of Manuka is given something called a Unique Manuka Factor (UMF) to denote its level of bioactivity. "When looking for a highly active product, we strongly recommend consumers look at the UMF level and ensure it's been certified by UMFHA — the gold standard that measures the compounds that make up real Manuka," Corey Blick, the SVP Comvita North America, tells TZR. "This can range from UMF 5+ to UMF 20+; 20+ indicating the highest and rarest level of active compounds." Blick recommends a rating of 10+ and above for skincare and hair care; lower doses are better for ingesting (because, yes, you can eat Manuka honey by the spoonful, too).
Bee warned (sorry, I had to): Those allergic to bees probably shouldn't test the power of Manuka. "As a raw, naturally produced biologic agent, it can cause reactions," Dr. Nakra says. However, Dr. Sheila insists staying leery of too much Manuka as a whole, particularly in raw form. "I always think about the skin's normal bacterial flora and pH, which can be disrupted with too much of anything," she says. "I don't generally recommended it for fungal acne or forms of dandruff as it can increase yeast production which can make it worse." But if you're worrying about the stickiness factor, don't. When blended with other ingredients, this honey doesn't feel tacky at all — just smooth and soothing.
Ahead, 12 ways to sweeten your skincare and hair care routines with the multitasking power of Manuka honey.
We only include products that have been independently selected by The Zoe Report's editorial team. However, we may receive a portion of sales if you purchase a product through a link in this article.
Shop Manuka Honey Skincare
Shop Manuka Honey Hair Care