7 Reasons Why You Need Castor Oil In Your Beauty Regimen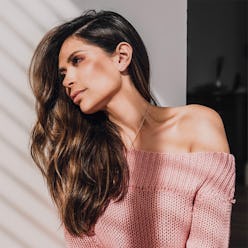 For the last few years, coconut oil has been all the rage, and it quickly became a staple product for DIY beauty remedies. Take one look at Pinterest and you'll quickly see how it's taken over the masking, moisturizing and haircare worlds. But one similarly versatile oil is often overlooked. Castor oil is a natural seed-pressed oil that gets a bad rap (because it's mainly known for being used as a laxative), but I believe castor oil is going to take over the beauty world for skincare and DIY tutorials in 2018—here's why.
What Is Castor Oil?
Obtained from the ricinus communis plant, castor seed oil primarily contains oils of fatty acids. Approximately 90 percent of the fatty acids found in castor oil are that of ricinoleic acid, which is a monounsaturated fat. Monounsaturated fats are used in beauty products to help maintain moisture levels in the skin, producing plump, softened and lubricated skin cells. Castor oil maintains its fluidity at very high and low temperatures, making it a stable ingredient for many skincare uses.
Benefits of Castor Oil
Hair Growth
The number-one reason I got so interested in castor oil was because of the way it increases circulation in the scalp to promote hair growth. I try to find any kind of way to get silky shiny hair and to help it grow, and castor oil has been my holy grail. Use it as a hair mask by warming it up with hands and giving yourself a concentrated scalp massage. Also make sure to run the oil through ends to help heal split ends. Leave in for at least an hour, and for maximum growth, shine and split-end benefits, leave in overnight and wash out in the morning!
With continued use, you'll see a huge improvement in the strength, length and shine of your hair. Try Shea Moisture's Jamaican Black Castor Oil Strengthen & Restore Smoothie—apply and leave in overnight for a mask, or use daily as a curl-defining leave-in treatment.
Dandruff
Since castor oil is packed with fatty acids that help nourish hair, it's the perfect remedy to relieve dandruff and dry scalp. The fatty acids, specifically undecylenic acid, in castor oil are also known for their antifungal, antibacterial and antiviral benefits that will help clear your scalp of dandruff or dry skin. Just use as a hair mask like mentioned above and watch as the snowflakes that were once hitting your shoulders disappear!
Thicken Hair
Castor oil contains omega-6 fatty acids, which help stimulate hair growth, and omega-9 fatty acids, which help control water loss in hair and make hair more pliable. By using a hair mask that contains castor oil on a regular basis, you can nourish your hair follicles to produce stronger, thicker hair.
Thicken Brows
Just as you can use castor oil on your scalp to help stimulate growth and condition your hair, you can also use it on your brows! Just load up a disposable mascara wand (you can find them in bundles on Amazon) with the oil, then brush on every night to help condition and thicken the hair for fuller, healthier brows.
Prevent and Reduce Stretch Marks
The omega-3 fatty acids found in castor oil can help reduce pigmentation left from stretch marks by stimulating the growth of healthy tissue in the skin. Omega-3 fatty acids also help minimize inflammation associated with stretch marks. Apply castor oil directly onto the problematic area, or mix it in with your favorite body moisturizer.
Heal Chapped Lips And Cracked Heels
During the winter months, dry air can wreak havoc on our bodies, leaving our skin dry and cracked. It's sometimes hard to find the right products to fix them. Rubbing castor oil on your lips and letting it soak in before applying lip balm will soothe and condition chapped lips. Try Love + Sage's Beach Rose Lip Balm for a light tint and a natural UV protection. You can also rub castor oil on your feet, concentrating on your heels, before applying socks at bedtime to wake up to smooth, soft, healed skin.
Soothe Dry Hands And Cuticles
Castor oil contains vitamin E, which is known to help promote smooth, conditioned skin. Applying it to dry hands will soothe tight, scaly skin. Try Maapilim's Hand Cream, and concentrate it on your fingernail beds to soften cuticles.
This article was originally published on The Everygirl.
More From The Everygirl:
Retinols, Retinoids, And Retin-A: Here's What You Need To Know
What Is Double Cleansing, And Should You Be Doing It?